Who Will Win New Orleans Saints vs. Atlanta Falcons? A.I. Predicts
This could be the rare great Thursday night game!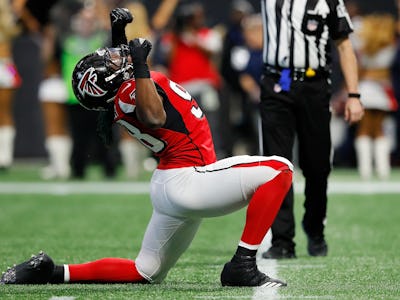 Getty Images / Kevin C. Cox
The New Orleans Saints are on track to win the NFC South. The Atlanta Falcons are looking up at their division foe, just looking to get back to the playoffs and see if they can make it to the Super Bowl again. Who will win their Thursday night showdown? A hive mind of about 30 NFL fans predicts the Saints will win.
The Falcons and Saints still have both games against each other to play this season, with the return trip to New Orleans set for Christmas Eve. That means the 7-5 Falcons theoretically have it within their control to win out and take the division from the Saints — if not the 8-4 Panthers, who they finish the season against. Atlanta is coming off a brutal 14-9 loss to the Minnesota Vikings. On the one hand, the Vikings might be the best team in the NFC at this point. On the other, 14-9 is a gross margin to lose by under pretty much any circumstance. Either way, there's everything to play for between two teams that are — that last game excepted — capable of playing some seriously entertaining football.
To predict the result of this and other games, Unanimous A.I. used what's known as swarm intelligence to forecast the week's slate. About 30 NFL fans worked together as a hive mind to make picks. As you can see in the animation below, each participant controlled a little golden magnet and used it to drag the puck toward the answer they thought was the most likely outcome. As the users saw the puck move toward a particular outcome, it triggers a psychological response. They readjust their decision-making, building toward a consensus. Here's Unanimous A.I. founder Louis Rosenberg explaining swarm intelligence at a recent TEDx Talk.
Unanimous A.I. has made some scarily accurate predictions in the past using swarm intelligence, as our previous article explains. For instance, the swarm went a perfect 7-0 in its most recommended picks for a recent English Premier League slate.
The swarm likes the Saints to win this one, albeit with low confidence and 84 percent brainpower behind the pick.
The hive mind predicts the Saints will win this one by four to six points, with 87 percent brainpower behind the choice. That's a departure from the Vegas line, which has Atlanta by a point.
The game kicks off 8:25 p.m. Eastern Thursday on NBC, the NFL Network, and Amazon Prime Video.