Which Apps are the Best for Making Friends?
It's not as easy as it looks.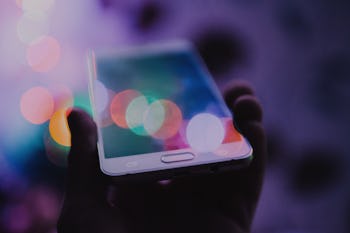 Unsplash / Rodion Kutsaev
Making new friends as an adult is notoriously difficult, and Silicon Valley wants to help your sad, lonely self hack it.
The Apple App Store recently put out a curated list of its top friend-making apps to "help you find your future BFF." The chosen apps include now-classic social apps like Meetup, Mush for making mom-friends, along with the women-focused Hey! Vina, among others.
While I'm in no need of new friends — to quote Drake, "no new friends!" — the list piqued my curiosity. As a millennial who's used to making IRL connections through social apps like Twitter and Instagram, designated apps seemed like a cake walk. And so, the downloading began. Here's how to make friends on the internet.
With Tinder Social — the app's friend-making feature — being discontinued from the dating platform this past summer ("it became apparent that the feature as devised didn't fit cleanly with our future direction," the company said), other apps have stepped in to fill the void.
From those, I decided to try out the Bumble BFF feature in dating app Bumble, Hey! Vina, dubbed as "the Tinder For (Girl) Friends!, and Atleto, geared at community working out to help get me to yoga.
First up was Hey! Vina. With an emphasis on a fun-looking interface, the app is marketed as "tinder for (girl) Friends!" complete with introductions made through its founder and CEO, Olivia June Poole.
"Introduction is so important to me because at the end of the day, meeting new friends online is new to all of us," Poole tells Inverse. "Being the person to introduce them is really important to me." It's true, as soon as I matched with a friend, Poole herself automatically sent a message encouraging me to ask my new match out for coffee.
And the fact that everyone is downloading the app for the same purpose — to make new friends — is key, Poole explains. Hey! Vina, which just launched an Android app and has reached 158 countries to date — drives home the point of "meeting people IRL." Poole's motivation for creating the app came when she first moved to San Francisco, where she used online dating site OkCupid to make friends. After noticing other women using the app for the same purpose, she realized the market was hungry for the interaction. Since launching in 2015, Hey! Vina has made over a millions of matches, or "Dittos," according to the company.
Part of the app's success relies on the fact that there is a lot more material to go off than just a photo, according to Poole. Indeed, the app prompted me to fill out a survey to figure out my personal "aura." This data is meant to help match me with my new BFF(s).
This information was helpful to me while swiping through Hey! Vina, Atleto, and Bumble BFF. It also got me thinking about how exactly I'm deciding on a potential match's viability.
While online dating swipes rely on instant physical attraction, it really takes digging into a candidate's profile to decide if you'd like to be friends.
During my journey of finding a best friend, I had to virtually unlearn everything I knew about dating apps. It doesn't make sense to instinctively swipe "left" on a potential friend due to their looks. Besides, that would be pretty rude.
On Bumble BFF, I was prompted to create a custom profile for the platform's friend-making venture. After all, you probably wouldn't want to use the same clever bio from your dating Bumble profile to make friends.
Alex Williamson el-Effendi, Bumble's Head of Brand, tells Inverse that the feature was something Bumble users had been asking for before it launched in March 2016.
"Having had success on the dating side of the app, many users wanted to replicate the experience for making friends," Williamson el-Effendi says.
Bumble having become known as safe space for women to find dates (women have to message matches first), the BFF community also reflects the same branding.
"The profile is a very important aspect of this feature," Williamson el-Effendi says. "Filling it out is vital to match with those with similar interests." And like Hey! Vina, Bumble BFF also encourages its users to take an online meeting offline fairly quickly. "Putting yourself out there and making the first move is important to help the friendship blossom."
The app — which currently boasts more than 26 million users across its dating friend-making and business vertical — produces approximately one billion swipes per month and 100 messages sent per second. The Bumble BFF team also organizes meet-ups and campaigns throughout cities by partnering with brands. For example, this month they've launched a partnership with Asian eatery chain Wagamama by encouraging users to show their Bumble BFF profile for a free side dish.
Bumble BFF has 26 million users.
My luck at finding chemistry with a new friend finally struck on Bumble BFF. While I had plenty of matches on both apps, keeping a conversation from dying off was definitely the most challenging aspect of the experience. Similar to online dating, creating lasting banter that makes it to an actual IRL friend date isn't as easy as it looks. For example, my chat with a new mom eventually fizzled out, understandably due to her busy schedule.
But unlike online dating, the opportunities to make new friends are infinite. You can meet a person, have drink and maybe keep them in your roster of acquaintances. "You don't have to stick with one person to become your BFF," Williamson el-Effendi notes.
With that in mind, and after days of swiping, I managed to forge a connection with my new friend and Australian expat Su Lwin (hey Su!)
After weeks of texting back and forth — and explaining that I'm writing this story about my experience — we finally made it to cocktail hour after Thanksgiving break.
"You're the first friend I've actually bonded with," Lwin told me as she sipped an Earl Grey MarTEAni.
As Lwin, who switched to BFF after meeting her boyfriend on the dating app, recalled her experience, I realized that there is a learning curve on friend-making apps.
"I went on one brunch date that ended pretty awkwardly, but overall the people on there are nice without being creepy," she explained.
She also notes that despite it being friendly, "Bumble BFF is unexpectedly as hard as meeting people on a regular dating app."
"In some ways, it's even worse, because you get 'ghosted' by girls before even meeting a lot of the time, and wonder what it is you said wrong," Lwin told me.
"Getting rejected via a friend-meeting app is just as bad because it's a social rejection."
At the end of our friend-date, we planned to meet again for a group hang. The experience felt stress-free and unusually relaxing. It also highlighted the fact that making friends outside one's circle helps keep us grounded, no matter how old we get. And using technology to find these genuine connections amid the current social climate is probably more important than ever.
As Poole, the Hey! Vina founder, puts it: "We're not just our jobs and hobbies, and our relationships and the effort we put into them reflect that."
A word on Atleto: While it's interface design seemed promising, I only managed to match with two people by the end of my experiment. This isn't to say the app is bad for making Crossfit friends, but perhaps my lack of gym selfies kept matches away.
Overall, I tend to gravitate toward my usual activity-tracking app for workout support anyway. But it's nice to know an entire community is at my fingertips ready to cheer me on virtually when my exercise motivation wanes.