'Supergirl' Referenced the Greatest Forgotten 'Star Wars' Story Ever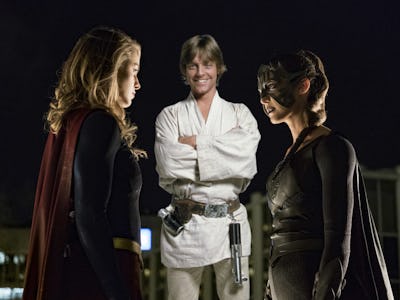 The CW, Lucasfilm
Despite the destruction that Reign, uh, rained down on National City, holiday joy and merriment had a brief moment before Kara was forced to rein in her latest potentially world-ending adversary. The Season 3 midseason finale of Supergirl was a whirlwind of chaotic, high-flying fights and firey terror; but, never fear, Winn Schott was here to add at least a little levity to the situation.
Nothing says "holiday cheer" like the unrighteously forgotten, disastrous masterpiece that is the Star Wars Holiday Special. Winn knows it well enough to reference it, and it's important that you know just what he's talking about.
This post contains spoilers for Supergirl Season 3, Episode 9, "Reign."
Supergirl Season 3, Episode 9, "Reign," ended on the cliffhanger of all cliffhangers — Kara Danvers's Supergirl (Melissa Benoist) might be dying right in front of our eyes and Reign's alter ego Samantha Arias (Odette Annable) looks to be on the verge of killing her daughter, Ruby. The ending is a total 180-degree turn from where the episode first started out, which involved a lot of Christmas tunes and Star Wars references.
As J'onn J'onzz's (David Harewood) father M'yrnn J'onzz (Carl Lumbly) waxes poetic about the joys of hot chocolate at the beginning of "Reign," he references "Life Day," the closest Martian approximation to Christmas. Winn (Jeremy Jordan), ever the reliable nerd of the Supergirl gang, perks his ears and rushes to join in on the conversation.
"Excuse me? Life Day? As in the Star Wars Holiday Special?" Winn demands in rapid fire. "It was on CBS. Princess Leia, like sang a song…" He trails off, assuming that no one else knows what he's talking about. Winn then has the clearly horrific realization that M'yrnn and J'onn might not even know what Star Wars is.
J'onn is, understandably, offended. "Excuse me?" he says. "The Empire Strikes Back is the best movie sequel of all time."
While J'onn's opinion is up for debate, Winn's excitement over a random reference to the Star Wars Holiday Special is not. Those of you who have witnessed the horror know what we mean; those of you who haven't need to educate yourselves.
While J'onn doesn't confirm that he knows what the Star Wars Holiday Special is, be assured that Life Day is a very important part of the musical sci-fi television film. It's not the most important part, though. The story follows Chewbacca and Han Solo's travels to Chewie's home planet of Kashyyyk. While they're going to visit Chewie's family for the Wookie holiday Life Day, they spend some time dodging Empirical agents who are tracking down Rebel agents.
The most important detail is this: alongside the comedy routines, musical numbers, and variety show acts lies the canonization of Chewbacca's family; his wife, Malla, his son, Lumpy, and his father, Itchy.
That is Star Wars canon. And it is fantastically bad. The special is so bad, in fact that Star Wars creator George Lucas has famously said, "If I had the time and a sledgehammer, I would track down every copy of that show and smash it."
Winn is clearly one of the many Star Wars fans who's watched bootlegged versions of the special, as it's never been reaired on American television and was never officially released on home video. The only questions that remain: Did Supergirl's version of George Lucas meet a Martian and steal Life Day from them? And, if so, how did that celebration make it into our own world?