Why This Major Moving Company is Now Taking Bitcoin, According to Its CEO
Dumbo Moving claims to be the first to offer crypto payment.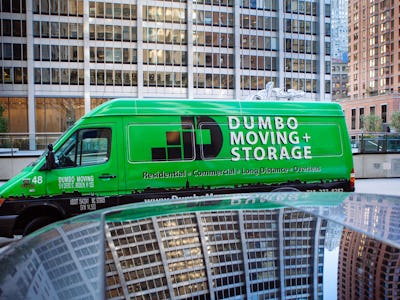 Dumbo Moving Storage
Dumbo Moving has jumped onto the Bitcoin hype train.
The Brooklyn-based company claims to be the first moving company to support the blockchain-based cryptocurrency for its payments. While commentators keep their eyes on the ever-increasing price of a single token, the company's interest in a payment method designed to work anywhere on the planet without hassle shows how Bitcoin may prove to be more than just an investor's tool.
"When we need to take credit card information we need to take a ZIP code and billing address," Lior Rachmany, CEO and founder of Dumbo Moving, tells Inverse. "When it's overseas it becomes a problem. Having a Bitcoin transaction, it's pretty seamless and it's non-reversible, so this is something that protects us and the customer."
It's just one of several reasons why Rachmany is positive about bitcoin. Although he originally wanted to start taking them as a way of getting on board with the rising price — "it all started with all the buzz" — he's now found it offers a number of advantages over cash and credit cards.
It's a big step for one of America's top rising moving companies. Every year since its inception in 2006, Dumbo Moving has grown by 50 percent each year. The company has 280 employees fulfilling around 2,000 to 3,000 orders per month. Last year it reported revenue of $14.2 million, and it was featured on Inc's list of the 5000 fastest-growing companies in the country for the third year running.
Bitcoin has had a similarly meteoric rise, moving from $5,000 in mid-October to nearly $12,000 on Monday, though it doesn't seem like Dumbo's customers have taken to it immediately. Since support for the cryptocurrency was announced on November 20, the company has taken just four orders using the new payment method. That means Bitcoin transactions currently account for around half a percent of the company's total.
But bitcoin's instant transactions that stretch across international borders are ideal for service-based businesses like Dumbo Moving. With one in five New Yorkers coming from a different country, the company can cater to non-Americans moving house while avoiding issues with failed credit card checks.
"Unfortunately, we faced many scams when we did international transactions, we did the full complete move and we out found that the credit card owner was not really the right person," Rachmany says. "That was, unfortunately, a great loss on our side."
Although the company is holding onto the few bitcoins it's received, watching the price go up in the process, it's pleased with how the initial offering has panned out and plans to keep going.
"If that will be common and acceptable way of payment, definitely, as we are looking into expanding globally and do more overseas transactions," Rachmany says.