Target Is Latest Store to Take on Apple Pay by Launching Own Payment App
Still no in-store Apple Pay support.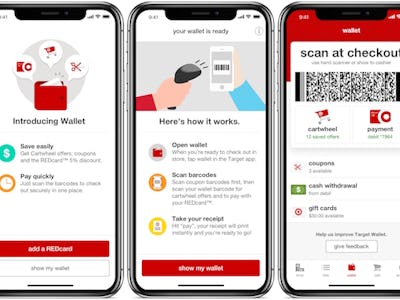 Target
Target just unveiled its answer to Apple Pay.
The superstore has launched a wallet feature in its app to give customers a "faster, easier way to pay and save." After years of resisting the integration of Apple Pay or Google Wallet in its retail locations, the company is letting its most diehard fans pay digitally through a designated Target Wallet.
The company's decision to introduce a dedicated digital payments feature seems like a timely move. Apple Pay Cash officially launches this week, offering Apple Pay users a more Venmo-like ability to make digital payments.
The introduction of Wallet lets Target remain resolute in not accepting outside payment apps in its store. That's a little ironic, considering Apple Pay is already compatible with Target's app for online purchases.
Target joins other brick-and-mortar stores from Walmart and Kohl's to Starbucks and Dunkin' Donuts in introducing a proprietary payment app. While each app offers store-specific perks and makes it easier to shop at that specific store, it's hard not to wonder whether we're headed to a future where anyone looking to pay for things with their phone will need about 50 different apps to do it.
There's one big advantage for Target in making this move: It gains access to customers' purchase data that Apple Pay refuses to share with retailers. It also saves Target money on credit card swipe fees and other processing charges. How much of those savings it will then pass onto customers is an open question, but at least it's accompanying the launch of the Wallet app with some serious perks.
"Wallet in the Target app makes checkout easier and faster than ever," Mike McNamara, Target's chief information and digital officer, said in a statement. "Guests are going to love the convenience of having payment, Cartwheel offers, Weekly Ad coupons and GiftCards all in one place with Wallet."
The move is meant to encourage Target app users to whip out and scan their phones at checkout to score some combined savings. Target Wallet is designed to be synced with the retailer's signature REDcard, which comes in credit and debit, for in-store checkout that's four times faster.
The Target Wallet feature is now available for both iOS and Android users.