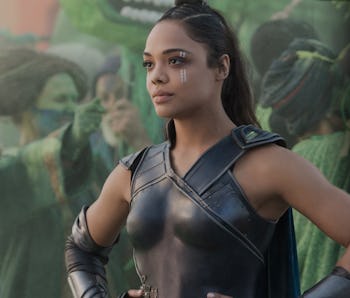 Entertainment
'Thor: Ragnarok' Concept Art Shows Valkyrie Looking Extremely 'Mad Max'
Marvel
Valkyries, a squadron of powerful and glorious warrior women, where Asgard's elite fighting force before all but one died fighting Hela before Thor: Ragnarok. When we meet Tessa Thompson's Valkyrie, she's fallen on hard times and is a far cry from the impeccable soldier she once was, but newly revealed concept art shows that she almost looked even more grungey.
Marvel concept artist Andy Park posted two illustrations of Valkyrie's unused look to Twitter on Sunday night, and they look like something straight out of a Mad Max movie. This iteration of Valkyrie seems like she fits in more on the landfill-dominated outskirts of Sakaar, and she's wearing a mask that looks similar to the ones the people who first try to kidnap Thor are wearing. Valkyrie's also wearing gauntlets that straight-up turn her fists into gnarly spiked maces, which would've been as awesome as they are impractical.
Underneath the hood and mask, Valkyrie's got a fierce look and an undercut. All in all it's a design that would've fit in with Sakaar's aesthetic better, but maybe wouldn't have worked as well when Valkyrie retakes the mantle and ventures back to Asgard.
"Here's another alternate concept design version I did of #TheValkyrie for #ThorRagnarok," Park explained in his tweet on Sunday. "Early idea Taika had of her being hooded w/mask & w/mace gauntlets. & of course b4 perfect casting of @TessaThompson_x."
Now that Valkyrie is back to wearing her white armor, it seems unlikely that this scavenger look will ever be seen in the Marvel Cinematic Universe. Valkyrie seemed to prefer swords to bludgeoning weapons, anyway, and she had too many small gadgets to not be able to use her fingers. As cool as this concept art is, it's pretty hard to argue too much with how Thompson's Valkyrie ended up looking and acting in the finished Thor: Ragnarok.