Why Han Solo's Funeral Won't Happen in 'Star Wars: The Last Jedi'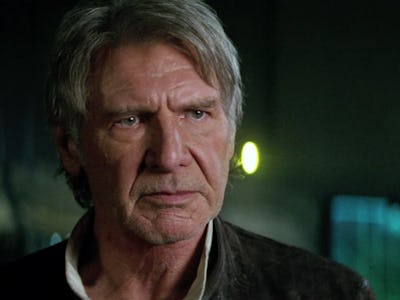 Lucasfilm
Han Solo's death in Star Wars: The Force Awakens made waves across the galaxy and through the Star Wars fandom. There won't be time to mourn his death, though.
John Boyega (Finn) and Oscar Isaac (Poe Dameron) spoke to reporters at Sunday's Last Jedi news conference and confirmed what many fans have feared: Harrison Ford's Han Solo won't be getting a proper funeral in The Last Jedi. It seems the Resistance and everyone else won't even have time to mourn him at all.
"The pressure's on. There's no time," Boyega said. "I'm sure we'd all feel sentimental. But Rey (Daisy Ridley) is out training, she's got stuff to do. Finn's got stuff to do. I can't think about Han at the moment."
Isaac added: "It's a dire situation. It's critical. The Resistance is on its last legs. It is like war, where you've got to keep moving to survive. You feel the momentum of everything that has happened in The Force Awakens just pushing to a critical mass."
If, for some reason, you need a reminder of how Han met his end in The Force Awakens, then allow us to be the people who break your heart again.
Star Wars fans have theorized that Last Jedi would depict some sort of funeral or, at the very least, a ceremony to honor Han Solo's death. That doesn't seem to be the case, though.
Of course, this doesn't mean Han's memory won't still be alive in the film. Both Luke Skywalker and General Leia Organa loved Han Solo in their own ways and Leia obviously felt his death through the Force. It seems unlikely that Han's loss will be completely ignored. There will most likely at least be a line or two mentioning it; there just won't be a ton of pomp and circumstance surrounding his death. And as much as a dramatic person as he was, Han always understood when work had to be done.
Star Wars: The Last Jedi premieres in theaters on December 15.