Who Will Win Philadelphia Eagles vs. Seattle Seahawks? A.I. Predicts
It's an elite-level bird fight!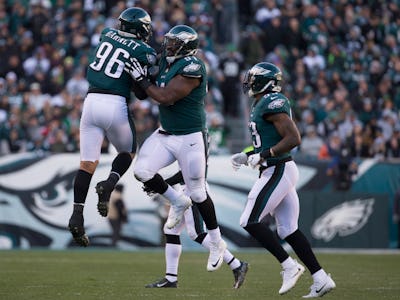 Getty Images / Mitchell Leff
It's another matchup of two of the NFL's bird-themed teams, and it's not often you get a bird fight(!) that is this high-caliber. The Philadelphia Eagles are the best team in the league, while the Seattle Seahawks are still 7-4 as they deal with a raft of injuries. A hive mind of about 30 NFL fans predicts the Eagles will win Sunday.
To run their record to 11-1, though, the Philadelphia Eagles must contend with the din of Seahawks fans, the 12th Man. Seattle has a well-earned reputation as a brutally hard place to play in, especially during this current era of dominance, yet the Seahawks find themselves in the unfamiliar position of having lost their last two games there, first to lowly Washington and then to Atlanta in another excellent bird fight(!) game. It feels ridiculous the Seahawks would drop three in a row at home, but the Eagles look like absolute world-beaters. This ought to be good.
Subscribe to the Inverse newsletter. Trust us, we're from the future.
To predict the result of this and other games, Unanimous A.I. used what's known as swarm intelligence to forecast the week's slate. About 30 NFL fans worked together as a hive mind to make picks. As you can see in the animation below, each participant controlled a little golden magnet and used it to drag the puck toward the answer they thought was the most likely outcome. As the users saw the puck move toward a particular outcome, it triggers a psychological response. They readjust their decision-making, building toward a consensus. Here's Unanimous A.I. founder Louis Rosenberg explaining swarm intelligence at a recent TEDx Talk.
Unanimous A.I. has made some scarily accurate predictions in the past using swarm intelligence, as our previous article explains. For instance, the swarm went a perfect 7-0 in its most recommended picks for a recent English Premier League slate.
The swarm knows it's picking Philadelphia to win, but it was almost perfectly split between a high and low confidence prediction. That's why the ultimate high confidence pick had a low 75 percent brainpower behind it.
The hive mind predicts the Eagles will win relatively comfortably, picking a final margin of seven to nine points with 82 percent brainpower. The Vegas line has the Eagles by 5.5 points.
The game kicks off 8:30 p.m. Eastern Sunday on NBC.