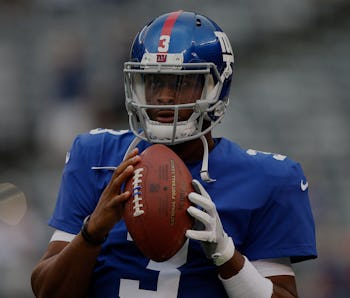 Innovation
Who Will Win New York Giants vs. Oakland Raiders? A.I. Predicts
The Eli Manning era is over. The Geno Smith era(?) has begun.
Getty Images / Rich Schultz
Eli Manning started the last 210 games for the New York Giants. He won't start this Sunday against the Oakland Raiders, with journeyman backup Geno Smith taking over for the remaining weeks… maybe. A hive mind of about 30 NFL fans predicts the Giants will win Sunday.
There was probably no good way for the Eli Manning era to end in New York, as the team collapsed around him in a morass of injuries and mismanagement. But still, this was bad, with Manning being offered an opportunity to keep starting with the understanding he'd come out of the game early so his backups could be evaluated and then ignominiously benched when he declined. So Smith instead steps in, with rookie Davis Webb expected to get a look at some point. The Raiders have to be at least a little happy about this being the state of their opponents, especially when they have a chance to move into a tie for the AFC West lead with the win.
Subscribe to the Inverse newsletter. Trust us, we're from the future.
To predict the result of this and other games, Unanimous A.I. used what's known as swarm intelligence to forecast the week's slate. About 30 NFL fans worked together as a hive mind to make picks. As you can see in the animation below, each participant controlled a little golden magnet and used it to drag the puck toward the answer they thought was the most likely outcome. As the users saw the puck move toward a particular outcome, it triggers a psychological response. They readjust their decision-making, building toward a consensus. Here's Unanimous A.I. founder Louis Rosenberg explaining swarm intelligence at a recent TEDx Talk.
Unanimous A.I. has made some scarily accurate predictions in the past using swarm intelligence, as our previous article explains. For instance, the swarm went a perfect 7-0 in its most recommended picks for a recent English Premier League slate.
The hive mind predicts the Raiders — the 5-6 Raiders! — to win with high confidence, with a huge 89 percent brainpower behind the pick.
The swarm predicts the Raiders will win by seven to nine points with 90 percent brainpower. Vegas currently has them by 8.5 points.
The game kicks off 4:25 p.m. Eastern Sunday on Fox.