Who Will Win Cleveland Browns vs. Los Angeles Chargers? A.I. Predicts
From 0-4 to a potential division lead.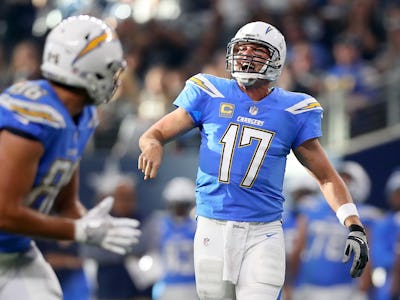 Getty Images / Tom Pennington
The Los Angeles Chargers are on the brink of completing one of the unlikeliest turnarounds in NFL history, as a victory Sunday over the flailing Cleveland Browns could move them into a tie for the division lead. Not bad for a team that started 0-4. And a hive mind of about 30 NFL fans predicts the Chargers will win.
The 1992 San Diego Chargers are, at least for now, the only team ever to go from 0-4 to the playoffs, blitzing their final 12 games to finish 11-5 and win their division. This Chargers team a quarter century later hasn't been quite so hot, considering they already picked up a sixth loss, but the ongoing collapse of the Kansas City Chiefs means a win Sunday could put Los Angeles into a tie for first place in the AFC West. And what do you know: They're hosting a winless Cleveland Browns team!
Subscribe to the Inverse newsletter. Trust us, we're from the future.
To predict the result of this and other games, Unanimous A.I. used what's known as swarm intelligence to forecast the week's slate. About 30 NFL fans worked together as a hive mind to make picks. As you can see in the animation below, each participant controlled a little golden magnet and used it to drag the puck toward the answer they thought was the most likely outcome. As the users saw the puck move toward a particular outcome, it triggers a psychological response. They readjust their decision-making, building toward a consensus. Here's Unanimous A.I. founder Louis Rosenberg explaining swarm intelligence at a recent TEDx Talk.
Unanimous A.I. has made some scarily accurate predictions in the past using swarm intelligence, as our previous article explains. For instance, the swarm went a perfect 7-0 in its most recommended picks for a recent English Premier League slate.
The swarm has little doubt the Chargers will win, picking them with high confidence and 93 percent brainpower.
The hive mind favors the Chargers by 10 to 12 points here, with 79 percent brainpower behind the pick. The Vegas line has Los Angeles by 14 points.
The game kicks off 4:05 p.m. Eastern Sunday on CBS.