Who Will Win Tampa Bay Buccaneers vs. Green Bay Packers? A.I. Predicts
Somehow the backup quarterback seems like the safer bet here.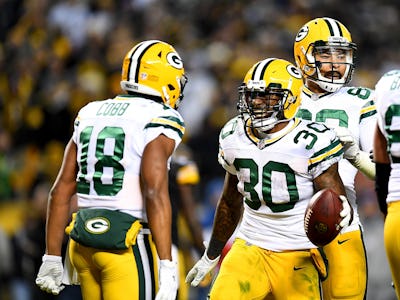 Getty Images / Joe Sargent
The Green Bay Packers' season is simply explained: Aaron Rodgers got injured, and things fell apart, especially with the Minnesota Vikings ascendant in the NFC North. The Tampa Bay Buccaneers could only wish their problems were limited to an injury to starter Jameis Winston. A hive mind of NFL fans predicts the Packers will win Sunday.
The thing is, though, Rodgers's replacement Brett Hundley has looked decent, even if it hasn't translated to a lot of wins. Green Bay played the AFC-leading Pittsburgh Steelers down to the wire in last week's game, with Hundley putting together his best performance as a pro. Winston, on the other hand, has looked shaky even when he has been healthy enough to play, and he now looks to return after weeks on the bench because of injury. With Tampa Bay's porous defense ready to give up passing yards to Hundley, there's a real chance the backup could show up the former number one overall pick here.
Subscribe to the Inverse newsletter. Trust us, we're from the future.
To predict the result of this and other games, Unanimous A.I. used what's known as swarm intelligence to forecast the week's slate. About 30 NFL fans worked together as a hive mind to make picks. As you can see in the animation below, each participant controlled a little golden magnet and used it to drag the puck toward the answer they thought was the most likely outcome. As the users saw the puck move toward a particular outcome, it triggers a psychological response. They readjust their decision-making, building toward a consensus. Here's Unanimous A.I. founder Louis Rosenberg explaining swarm intelligence at a recent TEDx Talk.
Unanimous A.I. has made some scarily accurate predictions in the past using swarm intelligence, as our previous article explains. For instance, the swarm went a perfect 7-0 in its most recommended picks for a recent English Premier League slate.
The hive mind predicts Green Bay will win, though with only low confidence and 80 percent brainpower behind the choice.
The swarm predicts Green Bay will win by four to six points, with 81 percent brainpower behind that pick. The Vegas line is Green Bay by two points.
The game kicks off 1 p.m. Eastern Sunday on Fox.