Who Will Win Denver Broncos vs. Miami Dolphins? A.I. Predicts
Are the Broncos the most broken team in the NFL? Maybe!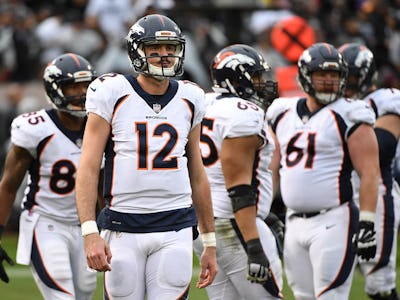 Getty Images / Robert Reiners
The Denver Broncos have lost seven in a row and look fully intent on losing five more to end the season. The Dolphins, by comparison, are just sort of boringly below average. This is a good old-fashioned misery bowl, and a hive mind of about 30 NFL fans predicts Miami will win it.
The Dolphins lost their quarterback right before the season, had to drag Jay Cutler out of retirement, have dealt with more injuries to Cutler and others, got embarrassed by a Baltimore Ravens that is generally just mediocre, and are generally playing out the string on a lost season. The Denver Broncos would love to be where the Dolphins are. Broncos coach Vance Joseph has looked increasingly out of his depth, though he's not been helped by the Broncos' borderline apocalyptic quarterback situation, with Trevor Siemian regressing and Brock Osweiler continuing to be Brock Osweiler. Maybe third option Paxton Lynch is finally ready to start turning things around. Maybe.
Subscribe to the Inverse newsletter. Trust us, we're from the future.
To predict the result of this and other games, Unanimous A.I. used what's known as swarm intelligence to forecast the week's slate. About 30 NFL fans worked together as a hive mind to make picks. As you can see in the animation below, each participant controlled a little golden magnet and used it to drag the puck toward the answer they thought was the most likely outcome. As the users saw the puck move toward a particular outcome, it triggers a psychological response. They readjust their decision-making, building toward a consensus. Here's Unanimous A.I. founder Louis Rosenberg explaining swarm intelligence at a recent TEDx Talk.
Unanimous A.I. has made some scarily accurate predictions in the past using swarm intelligence, as our previous article explains. For instance, the swarm went a perfect 7-0 in its most recommended picks for a recent English Premier League slate.
The hive mind predicts the Dolphins will win, though only with low confidence and 72 percent brainpower. This one could definitely go either way.
And that's reflected by the predicted final score — the swarm isn't sure who is going to win, but the 92 percent brainpower behind this prediction of one to three points says it is very sure it's going to be close. Vegas actually favors Denver by 1.5 points in this one.
The game kicks off 1 p.m. Eastern Sunday on Fox.