Who Will Win Minnesota Vikings vs. Atlanta Falcons? A.I. Predicts
Playoff positioning is on the line.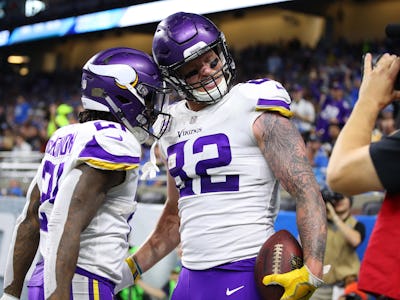 Getty Images / Gregory Shamus
The Minnesota Vikings have pretty much officially run away with the NFC North, but they still have a shot at first overall in the conference. The Atlanta Falcons are rounding back into shape as they look to get back to the Super Bowl. A hive mind of about 30 NFL fans predicts the Vikings will win Sunday.
The Vikings have low-key shocked the world with their divisional dominance. Sure, the injury to Green Bay Packers quarterback Aaron Rodgers helped, but 9-2 with wins over other (unlikely) NFC powers like the New Orleans Saints and Los Angeles Rams needs no qualification. The Vikings are good. As for the Falcons, they look solid to great whenever the AFC East isn't involved. Unless Minnesota switches divisions with the Buffalo Bills before Sunday, assume Atlanta will show up ready to keep fighting for a playoff spot in the crowded NFC race.
Subscribe to the Inverse newsletter. Trust us, we're from the future.
To predict the result of this and other games, Unanimous A.I. used what's known as swarm intelligence to forecast the week's slate. About 30 NFL fans worked together as a hive mind to make picks. As you can see in the animation below, each participant controlled a little golden magnet and used it to drag the puck toward the answer they thought was the most likely outcome. As the users saw the puck move toward a particular outcome, it triggers a psychological response. They readjust their decision-making, building toward a consensus. Here's Unanimous A.I. founder Louis Rosenberg explaining swarm intelligence at a recent TEDx Talk.
Unanimous A.I. has made some scarily accurate predictions in the past using swarm intelligence, as our previous article explains. For instance, the swarm went a perfect 7-0 in its most recommended picks for a recent English Premier League slate.
The swarm is really unsure which way to go here, ultimately picking the Vikings with low confidence and just 73 percent brainpower.
The swarm figures this one will be close, predicting the Vikings will win by four to six points. The brainpower is a little higher here at 82 percent. Vegas currently favors Atlanta by three, making this an intriguing swing away from the spread.
The game kicks off 1 p.m. Eastern Sunday on Fox.