GM's Self-Driving Car is Now Giving Test Rides on San Francisco's Streets
One step closer to full-on driverless world.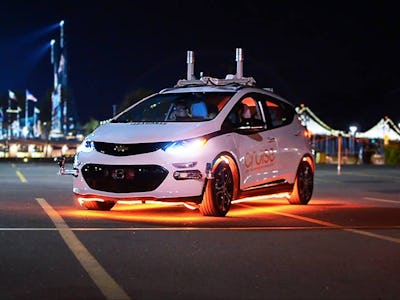 Cruise Automation
GM's driverless cars have officially hit the streets to pick up pedestrians.
The carmaker just launched demos of its autonomous fleet, including the Chevrolet Bolts, in San Francisco. While the general public can't yet hop on — the demo was just for journalists — this recent test run was the first time people who don't work for GM could take the self-driving Bolts for a ride.
The company's driverless cars have been developed through its subsidiary, Cruise Automation, over the past year and were finally revealed to the press by its president Daniel Ammann this week.
"Everything we are doing is geared to speed," Ammann said, adding that the vehicles would be fully ready for use in "quarters, not years."
A lucky few have already tested the cars by hailing rides across the city According to Tech Crunch, the ride in the second-genderation modified Bolt EV was fairly straightforward. Hailing the "cab" through the Cruise app is said to be similar to most ride-sharing services like Uber or Lyft, in which the user awaits an arriving vehicle to load into, though the options for now are limited to just one of three pre-selected destinations. Presumably that will increase as the cars get more advanced.
One of the highlights of the reviewed ride seems to come from the emphasis on safety, sometimes at the expense of comfort — Tech Crunch reports several sudden stops to avoid potential issues that a human rider would likely make more smoothly. This is understandable considering most driverless vehicle programs are currently focused on getting safe cars on the road instead of seamlessly-driving ones. Indeed, Cruise founder Kyle Vogt warned that "only two percent of its development time thus far has been focused on comfort," with the majority of resources going toward safety.
The takeaway from the Cruise test ride? The driverless car managed to get through the 2.4-mile trip without a takeover from the accompanying emergency driver or passenger. That's quite a milestone considering most driverless demos to this point have needed human help multiple times getting through a test drive.
Cruise's quick progress within the last three years bodes well for the consumer-facing driverless industry. Considering that over the course of the 20-minute drive, the vehicle avoided crashing into 114 cars, four bikes and countless San Francisco pedestrians, GM is one step closer to getting their Cruise driving the rest of us.
If you liked this article, check out this video about spherical tires for self-driving cars.