Cyber Monday Leftovers: 21 Gadget Deals You Can Still Get Today
There are still some offers available if you know where to look.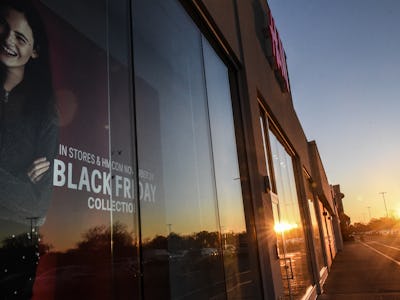 Getty Images / Stephanie Keith
The Black Friday and Cyber Monday shopping holidays may be over, but that doesn't mean the deals and offers have stopped just yet.
There's a slew of price reductions and sales still going on, particularly for gadget fans looking to get a good bargain on a TV, set of headphones, voice assistant, or robot vacuum cleaner. Gaming fans will also be satisfied by a number of ongoing promotions, including high-tech virtual reality headsets.
It's worth taking a look in the post-holiday quiet period, particularly as it could be a chance to grab a deal that flew under the radar. Here's what's still on offer:
Voice Assistants
Amazon Echo Dot is 40 percent off at $29.99. It's an ideal way to bring the Alexa voice assistant to a new room in the house.
Get the portable Amazon Tap voice assistant for $59.99, a $50 saving.
Those more into the Google ecosystem can pick up the Home Mini for $29.99, a $19 saving.
The Sony S50G Smart Speaker with built-in Google Assistant is $129.99, down from $199.99.
Robot Cleaners
iRobot Roomba 614 is on sale for $249, a $50 saving on the robot vacuum cleaner.
The Bissell SmartClean robot cleaner is on sale for $199.99, down from $299.99.
The Neato Robotics Botvac is $599.99, $100 off the standard price.
Samsung PowerBot with Amazon Alexa support is $349, down from $499.
TVs
LG's all-singing, all-dancing 4K Ultra HD Smart OLED TV is still available with $500 off. For the 55-inch model that equates to $1,696.99, while the 65-inch model comes out as $2,696.99.
Samsung's 65-inch LED Smart 4K Ultra HD TV is available at Best Buy for $899, a $200 saving.
The Sony XBR43X800E 43-Inch 4K Ultra HD Smart LED TV is on sale at Amazon for $598, 20 percent off the original price.
Sharp's 43-inch LED Smart 4K Ultra HD Roku TV is available at Best Buy for $299, a $130 saving.
Get the Element 50-inch 4K UHD Smart TV Amazon Fire TV Edition for $299.99, normally $549.99.
Gaming
Get Uncharted 4: A Thief's End for $27.94, down from $59.99.
Madden NFL 18 limited edition is just $39.82 at Wal-Mart, a $20 saving.
Get $100 off the PlayStation VR bundled with Gran Turismo Sport and the camera, all for just $299.99.
Controller Gear Xbox One controller chargers are down 30 percent to just $10.46.
Headphones
Get the Bose QuietComfort 25 for just $179.99, a $100 saving.
Beats urBeats Earphones are nearly half price at $49.99, down from $99.
Insignia Wireless On-Ear Headphones are just $29.99, a $20 saving.
MGLSSB Bluetooth Headphones are $17.69, down from $69.99 for a saving of 75 percent.
Please note these links have been autonomously chosen by our editorial team, and Inverse may receive a portion of the purchase.