Who Will Win Green Bay Packers vs. Pittsburgh Steelers? A.I. Predicts
It's a storied matchup that could have been even more.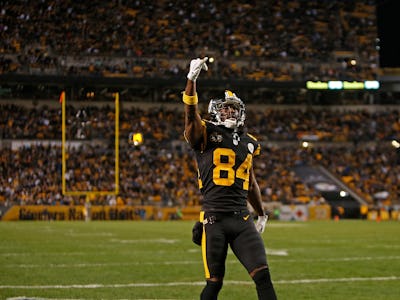 Getty Images / Justin K. Aller
The Green Bay Packers and Pittsburgh Steelers are two of the NFL's most illustrious, iconic franchises, and they're both consistently good enough that any game between them should be a clash of titans. But then Aaron Rodgers had to go and get injured. A hive mind of NFL fans predicts the Steelers will win Sunday night.
In fairness to replacement quarterback Brett Hundley and the Packers, they haven't looked completely awful since Rodgers went down. But last week's shutout loss to the Baltimore Ravens was a real bad result, and the Ravens are only the second best team in the AFC North. The best team? Yeah, that would be the Pittsburgh Steelers. And the Packers were playing the Ravens at home, whereas they are traveling to Heinz Field to take on the Steelers. Okay, maybe scratch that bit about "haven't looked completely awful." This could get bad.
Subscribe to the Inverse newsletter. Trust us, we're from the future.
To predict the result of this and other games, Unanimous A.I. used what's known as swarm intelligence to forecast the week's slate. About 30 NFL fans worked together as a hive mind to make picks. As you can see in the animation below, each participant controlled a little golden magnet and used it to drag the puck toward the answer they thought was the most likely outcome. As the users saw the puck move toward a particular outcome, it triggers a psychological response. They readjust their decision-making, building toward a consensus. Here's Unanimous A.I. founder Louis Rosenberg explaining swarm intelligence at a recent TEDx Talk.
Unanimous A.I. has made some scarily accurate predictions in the past using swarm intelligence, as our previous article explains. For instance, the swarm went a perfect 7-0 in its most recommended picks for a recent English Premier League slate.
The hive mind picks Pittsburgh to win with high confidence and 93 percent brainpower behind the choice.
The hive mind appeared split between a couple options but ultimately went with 10 to 12 points as the margin of victory, with 82 percent brainpower behind the pick. Vegas currently favors Pittsburgh by a full 14 points.
The game kicks off 8:30 p.m. Eastern Sunday on NBC.