Who Will Win New Orleans Saints vs. Los Angeles Rams? A.I. Predicts
Points! Points! POINTS!!!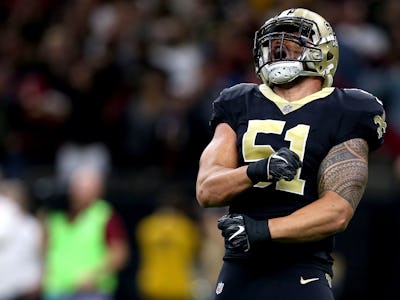 Getty Images / Sean Gardner
A pair of division-leaders with high-octane offenses and defenses that are sometimes very good and sometimes just like to watch their offenses do their thing face off this Sunday. The New Orleans Saints and Los Angeles Rams really ought to put on a points explosion for the ages. A hive mind of about 30 NFL fans predicts the Saints will win.
In lieu of anything resembling analysis, I will now just list some awesome point totals from each team. First, the visiting New Orleans Saints, owners of the longest winning streak in the NFL: 34. 26. 30. 47. 34 again. 52(!!!). And now, the Los Angeles Rams: 46. 41. 33. 27. 33 again. 51(!!!). Is it so much to ask for this game to end 52-51?
Subscribe to the Inverse newsletter. Trust us, we're from the future.
To predict the result of this and other games, Unanimous A.I. used what's known as swarm intelligence to forecast the week's slate. About 30 NFL fans worked together as a hive mind to make picks. As you can see in the animation below, each participant controlled a little golden magnet and used it to drag the puck toward the answer they thought was the most likely outcome. As the users saw the puck move toward a particular outcome, it triggers a psychological response. They readjust their decision-making, building toward a consensus. Here's Unanimous A.I. founder Louis Rosenberg explaining swarm intelligence at a recent TEDx Talk.
Unanimous A.I. has made some scarily accurate predictions in the past using swarm intelligence, as our previous article explains. For instance, the swarm went a perfect 7-0 in its most recommended picks for a recent English Premier League slate.
The hive mind predicts New Orleans will win. It's a low confidence pick with 76 percent brainpower behind the pick. There's a decent contingent pulling for the Rams instead.
The swarm predicts the New Orleans Saints will win by four to six points, with 87 percent brainpower behind that pick. Vegas favors the Saints by 2.5 points.
The game kicks off 4:25 p.m. Eastern Sunday on CBS.