Who Will Win Seattle Seahawks vs. San Francisco 49ers? A.I. Predicts
Is this the perfect storm for a shocking upset?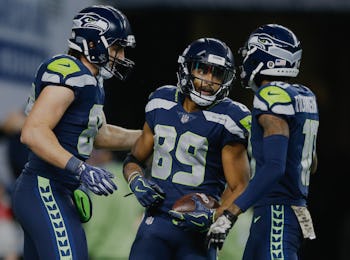 Getty Images / Otto Greule Jr
The Seattle Seahawks are banged-up and coming off a tough loss to the Atlanta Falcons last Monday night. If the San Francisco 49ers want to shock the world, this is their moment. A hive mind of about 30 NFL fans predicts the Seahawks will win.
Honestly, that's probably the correct pick. But if you're designing a way for the 49ers to beat their divisional rivals for the first time in nearly four years, it mostly involves "every imaginable malady befalls the Seahawks," and hey, what do you know! The fearsome Seattle secondary is an injury-riddled patchwork, and the 49ers get to come off their bye against a team playing on short rest. Plus, it's being played in Santa Clara, which is theoretically a home field advantage for the 49ers, assuming you know nothing about the 49ers' stadium situation in Santa Clara. All that said, the Seahawks are still massively more talented than the 49ers, so this is probably only the start of what needs to happen in San Francisco's favor to pull this heist off.
Subscribe to the Inverse newsletter. Trust us, we're from the future.
To predict the result of this and other games, Unanimous A.I. used what's known as swarm intelligence to forecast the week's slate. About 30 NFL fans worked together as a hive mind to make picks. As you can see in the animation below, each participant controlled a little golden magnet and used it to drag the puck toward the answer they thought was the most likely outcome. As the users saw the puck move toward a particular outcome, it triggers a psychological response. They readjust their decision-making, building toward a consensus. Here's Unanimous A.I. founder Louis Rosenberg explaining swarm intelligence at a recent TEDx Talk.
Unanimous A.I. has made some scarily accurate predictions in the past using swarm intelligence, as our previous article explains. For instance, the swarm went a perfect 7-0 in its most recommended picks for a recent English Premier League slate.
The swarm predicts Seattle will win with high confidence, with 95 percent brainpower behind that pick.
The swarm predicts the Seahawks will win by seven to nine points, with 83 percent brainpower behind that choice. The Vegas line has Seattle by 6.5 points.
The game kicks off 4:05 p.m. Eastern Sunday on Fox.