Who Will Win Tennessee Titans vs. Indianapolis Colts? A.I. Predicts
A battle of AFC South foes.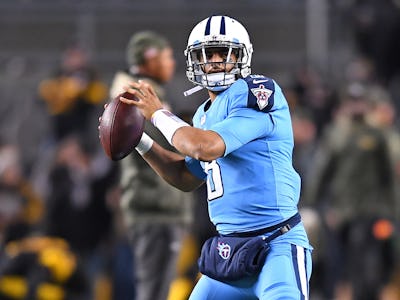 Getty Images / Joe Sargent
The Tennessee Titans need a win badly after last week's blowout at the hands of the Pittsburgh Steelers. The Indianapolis Colts haven't lost to the Titans at home since 2008, and they look to keep that streak alive for pride's sake, if nothing else. A hive mind of about 30 NFL fans predicts the Titans will win.
The Titans had a chance to prove they were ready to take that next step among the NFL's elite last week when they played the AFC-leading Steelers, and they got embarrassed 40-17. Now their task is a simpler one: Prove they can dominate bad teams like the Colts. To do that, they will have to get their first win ever in Lucas Oil Stadium. The Colts have looked competitive in their last three games against the Cincinnati Bengals, Houston Texans, and Steelers, even if they only got the win against the Texans, so this may not be as easy for the Titans as their opponents' 3-7 record would suggest.
Subscribe to the Inverse newsletter. Trust us, we're from the future.
To predict the result of this and other games, Unanimous A.I. used what's known as swarm intelligence to forecast the week's slate. About 30 NFL fans worked together as a hive mind to make picks. As you can see in the animation below, each participant controlled a little golden magnet and used it to drag the puck toward the answer they thought was the most likely outcome. As the users saw the puck move toward a particular outcome, it triggers a psychological response. They readjust their decision-making, building toward a consensus. Here's Unanimous A.I. founder Louis Rosenberg explaining swarm intelligence at a recent TEDx Talk.
Unanimous A.I. has made some scarily accurate predictions in the past using swarm intelligence, as our previous article explains. For instance, the swarm went a perfect 7-0 in its most recommended picks for a recent English Premier League slate.
The hive mind predicts the Titans will win with low confidence, with a high 90 percent brainpower behind that pick.
The swarm likes Tennessee to win by four to six points, with 79 percent brainpower behind that pick. The Vegas spread isn't quite that generous, favoring the Titans by only 3.5 points.
The game kicks off 1 p.m. Eastern Sunday on Fox.