Who Will Win Buffalo Bills vs. Kansas City Chiefs? A.I. Predicts
Two teams on the brink of disaster.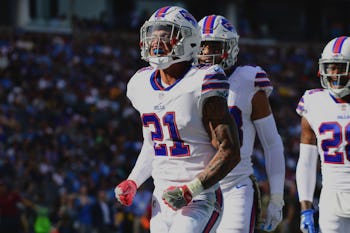 Getty Images / Harry How
Who had the more embarrassing Week 11? The easy answer should be the Buffalo Bills, who inexplicably benched quarterback Tyrod Taylor and sent rookie Nathan Peterman out to throw five interceptions in a half. But then, the Kansas City Chiefs did somehow lose to the gruesomely bad New York Giants. A hive mind of about 30 NFL fans predicts the Chiefs will win their game Sunday.
Both the Bills and Chiefs are experiencing feel-good stories gone bad. The Bills jumped out to a surprising 5-2 record and looked set to end the NFL's longest playoff drought, but the team's itchy trigger finger the moment Taylor gave an excuse to be benched led to the Peterman fiasco… and the return of Taylor to the starting lineup. The Chiefs were the NFL's last undefeated team, jumping out to 5-0, but they have been just 1-4 since then. Whoever loses this game is going to be staring at ever-mounting questions about just what they're even trying to do here. Whoever wins may not be in much better shape, honestly.
Subscribe to the Inverse newsletter. Trust us, we're from the future.
To predict the result of this and other games, Unanimous A.I. used what's known as swarm intelligence to forecast the week's slate. About 30 NFL fans worked together as a hive mind to make picks. As you can see in the animation below, each participant controlled a little golden magnet and used it to drag the puck toward the answer they thought was the most likely outcome. As the users saw the puck move toward a particular outcome, it triggers a psychological response. They readjust their decision-making, building toward a consensus. Here's Unanimous A.I. founder Louis Rosenberg explaining swarm intelligence at a recent TEDx Talk.
Unanimous A.I. has made some scarily accurate predictions in the past using swarm intelligence, as our previous article explains. For instance, the swarm went a perfect 7-0 in its most recommended picks for a recent English Premier League slate.
The swarm looked like it was seriously considering picking Kansas City with high confidence before opting instead for the low confidence pick. There's 77 percent brainpower behind that eventual prediction.
The swarm predicts Kansas City will win by seven to nine points, with 90 percent brainpower behind that prediction. The Vegas spread is the Chiefs by 10 points.
The game kicks off 1 p.m. Eastern Sunday on CBS.