Who Will Win Los Angeles Chargers vs. Dallas Cowboys? A.I. Predicts
Both teams are thankful for long-shot playoff hopes.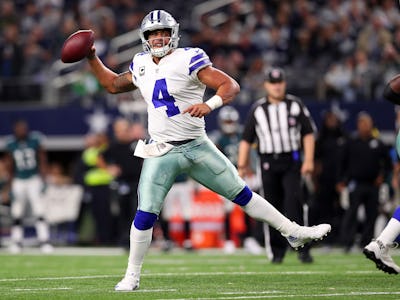 Getty Images / Tom Pennington
The Dallas Cowboys have navigated injuries, an increasingly infamous suspension, and a tricky schedule to a .500 record. The Los Angeles Chargers started 0-4 but have rallied to a respectable 4-6. Both teams need a win to stay in the playoff hunt. A hive mind of NFL fans predicts the Cowboys will win.
Even though Dallas has the better record, they have the much tougher path to a playoff bid, mostly because the NFC has more than a full bracket's complement of good teams this year. There's only room for one of the NFC's three 6-4 teams in the playoffs as it stands, let alone 5-5 Dallas. The Chargers are far from in it, for their part, but an easy schedule coming up, the general terribleness of the AFC, and the fact that their 0-4 start was more bad luck than bad performance all mean they have a surprisingly good shot at becoming only the second team — joining some obscure club called "the San Diego Chargers" — to lose their first four games and make the playoffs.
Subscribe to the Inverse newsletter. Trust us, we're from the future.
To predict the result of this and other games, Unanimous A.I. used what's known as swarm intelligence to forecast the week's slate. About 30 NFL fans worked together as a hive mind to make picks. As you can see in the animation below, each participant controlled a little golden magnet and used it to drag the puck toward the answer they thought was the most likely outcome. As the users saw the puck move toward a particular outcome, it triggers a psychological response. They readjust their decision-making, building toward a consensus. Here's Unanimous A.I. founder Louis Rosenberg explaining swarm intelligence at a recent TEDx Talk.
Unanimous A.I. has made some scarily accurate predictions in the past using swarm intelligence, as our previous article explains. For instance, the swarm went a perfect 7-0 in its most recommended picks for a recent English Premier League slate.
The hive mind predicts Dallas to win, albeit only with low confidence and 80 percent brainpower.
The swarm sees this one as a squeaker, picking Dallas to win by one to three points. That's an 83 percent brainpower prediction. The Vegas line currently favors Los Angeles by a point.
The game kicks off 4:30 p.m. Eastern Sunday on CBS.