Who Will Win Minnesota Vikings vs. Detroit Lions? A.I. Predicts
The NFC North could hang in the balance.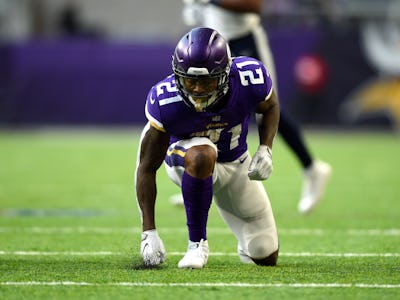 Getty Images / Hannah Foslien
The Minnesota Vikings and Detroit Lions both took care of business last week to set up this week's epic Thanksgiving day clash for the NFC North. Whoever wins will have an excellent shot at taking the division. A hive mind of about 30 NFL fans predicts the Vikings will win.
With Minnesota at 8-2 and Detroit at 6-4, the Lions can't move into the division lead with a win here. But one of the Vikings' only two previous losses was to Detroit, meaning a second win for the Lions would give them an invaluable tiebreaker and shrink the Vikings' margin for error down to almost nothing. If Minnesota wins, on the other hand, they open up a commanding three-game lead with just five games left to play.
Subscribe to the Inverse newsletter. Trust us, we're from the future.
To predict the result of this and other games, Unanimous A.I. used what's known as swarm intelligence to forecast the week's slate. About 30 NFL fans worked together as a hive mind to make picks. As you can see in the animation below, each participant controlled a little golden magnet and used it to drag the puck toward the answer they thought was the most likely outcome. As the users saw the puck move toward a particular outcome, it triggers a psychological response. They readjust their decision-making, building toward a consensus. Here's Unanimous A.I. founder Louis Rosenberg explaining swarm intelligence at a recent TEDx Talk.
Unanimous A.I. has made some scarily accurate predictions in the past using swarm intelligence, as our previous article explains. For instance, the swarm went a perfect 7-0 in its most recommended picks for a recent English Premier League slate.
The hive mind predicts a Minnesota victory. While it's only a low confidence pick with 83 percent brainpower, a lot of the dissent comes from people pulling for the Vikings with high confidence instead.
That said, the swarm doesn't see a huge victory here, picking Minnesota to win by four to six points with 80 percent brainpower. The line for this game is currently Vikings by three.
The game kicks off 12:30 p.m. Eastern Thursday on Fox.