"International Men's Day" Sees Backlash Despite Good Intentions
The "holiday' is divisive, that's for sure.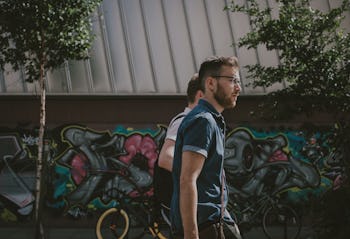 Unsplash / Els Fattah
It seems people aren't in the mood to celebrate International Men's Day this year.
The marked day, aimed at raising awareness for issues affecting men in society, takes place on November 19 every year. But despite the good intentions of organizer Mark Brooks, the day has become something of a toxic punchline in a year filled with sexual assault allegations against major male figures — including President Donald Trump. It's not been a banner year for men, as many in positions of power have been exposed as using that influence in cases of sexual harassment and assault.
With all its great intentions at helping men overcome major life obstacles, it seems there is no room for IMD this year. At least not on Twitter.
"Today is International Men's Day … So pretty much like every other day," AJ+ official Twitter account tweeted, complete with a gagging gif.
Daily Beast editor Gloria Erin Ryan also went the snarky route, commenting, "Extremely fitting that International Men's Day and World Toilet Day are celebrated concurrently this year."
But Brooks, along with volunteer organizers, has spent the past three months preparing for the big day, he writes for The Telegraph in a column to highlight just some of the concerns IMD is meant to shed light on. (The day began being observed back 1992 by Thomas Oaster.)
"From an equality perspective, there is a realisation that society cannot sit by and not take action to tackle issues such as male suicide (12 men will take their own life today) and rough sleeping (well over 3,000 men will be sleeping on the streets tonight). These are self-evidently gendered issues: to ignore them would be tantamount to sexism."
On the Mens Rights subreddit, a community of about 163,000, described as a place "for those who wish to discuss men's rights and the ways said rights are infringed upon," the top submission on Sunday, with 2,288 upvotes, was a complaint that Google didn't recognize the day with a Google Doodle.
Despite the social media snark, the Men's Day efforts seem to be genuinely appreciated by some.
"International mens day is about dealing with issues such as the male suicide rate being so high because men are afraid to speak out. Don't let fake deep tweets trick you into thinking its about men trying to show that they're better than women," Twitter user Alex Romero observed.
Similarly, journalist Daisy Cousens also took the opportunity to recognize the men in her life, without a hint of snark.
"Happy International Men's Day, darlings! Let's take the time to appreciate the men who work, sweat, fight, and die to provide for their loved ones, and to acknowledge the unique challenges they face in society. #InternationalMensDay," Cousens writes.
This image was being widely circulated on Instagram on Sunday: