Nigeria's Bobsled Team Qualified for Olympics for the First Time
Team leverages crowdsourcing to qualify for the first time.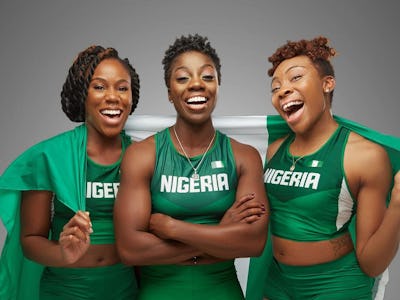 Instagram/bsfnigeria
Nigeria is going to the Winter Olympics for the first time in history, after the bobsled team qualified for next year's games in PyeongChang, South Korea. The team completed the fifth of five required races in Calgary on Wednesday, thanks to a crowdfunding campaign that helped the team raise the funds to realize their dreams. Driver Seun Adigun will be joined by brakewomen Ngozi Onwumere and Akuoma Omeoga.
"This is a huge milestone for sports in Nigeria," Adigun told KweséESPN. "Nothing makes me prouder than to know that I can play a small role in creating opportunities for winter sports to take place in Nigeria. Our objective now is to be the best representation of Africa that the Winter Olympics have ever witnessed."
The team's story bears similarity to that of the Jamaican bobsled team that qualified for the 1988 games. The team, which inspired the film Cool Runnings, drew attention for competing at the winter games despite coming from a country with little snow. Adigun shared a video on YouTube to explain how the Nigerian team was practicing without snow:
Nigeria's journey to the Winter Olympics surged ahead when Adigun posted a GoFundMe page on November 2016. The post called for $75,000 in fundraising to reach a total of $150,000. The moneywas used for membership fees, a bobsled, tools and other costs.
Watch Adigun practicing at the Park City Driving School in Utah on her first day learning the track, in the first update on the crowdfunding page:
The page quickly gathered momentum as the team shared updates about their progress. In total, 474 people donated to the cause, with the page shared nearly 7,000 times by fans.
"You all have been absolutely amazing!" Adigun said in a January update. "The momentum that this campaign has been getting with all of your help has truly been insurmountable. From the bottom of my heart, I thank you."
The 2018 Winter Olympics are scheduled to start on February 9.