Captioned Wants to be the Next Vine. Its First Users Tell Us How It's Doing
The app is betting online audio can be saved... with video's help.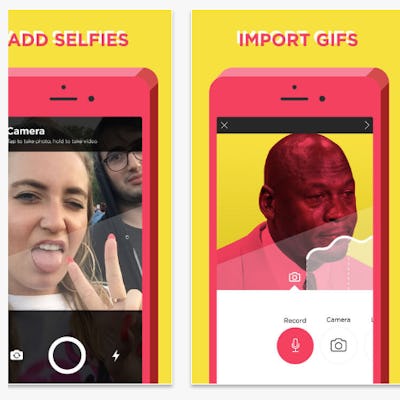 Captioned
Let's face it: The internet just isn't fun anymore.
Given the general absurdity that is living in 2017, it seems no social platform is safe from the 24-hour outrage machine these days.
Enter: Captioned, a newly launched app that's like a cross between Vine and talk radio.
"It's an audio platform with visual components," the company's founder Ian Ownbey tells Inverse on an overcast afternoon in the startup's dark Lower East Side co-working space. He and the rest of the team behind the podcasting app Bumpers decided to create what Ownbey calls "an entirely new medium."
But what exactly does that mean? Every post on Captioned starts out as voiceover recorded by the user, but it can't just be audio. That recording needs be supplemented with video clips, GIFs, text, cuts, and transition that work together to tell a story that can be as serious or silly as each user wants.
When you open the Captioned app — which 10,000 current users do daily — your feed begins autoplaying the posts of those you follow. Similarly to Instagram's layout, the center "plus" button prompts you to start compiling your Captioned while the magnifying glass next to it is the quickest gateway to discover other users.
Captioned's media format is still so new, uploading a post doesn't even have a specific term yet. Though, some users tell us they have taken to calling them "Capts."
Bumpers and Captioned co-founder Ownbey knows the importance of visuals, given that he and Jacob Thornton founded Bumpers two years ago on the basis of bringing audio to the masses. The low click-rate on the audio on Bumpers helped them realize the best way to showcase audio is by adding compelling imagery to it.
Captioned is meant to breathe a new life into the audio medium. If you've ever linked to a straight audio file online, you know the frustration of getting your followers to click on it.
"It's less aimed at visual influencers and more for creative unknowns," Ownbey tells us as a team member delicately brews a pour-over coffee with a Chemex in the kitchen. "Because the process involves rants or explainers or on how things work, it's something a filmmaking major would do well on."
"It's like bringing a Wikipedia page to life," he continues.
"Our first test Captioned got over 500 retweets, which was a testament to its striking look and sound," Ownbey says.
Individual users can tell a story, with the focus less on virality and more on making content that is informative or interesting.
Captioned user @heavyd (Dan Golant), an Indianapolis software developer, says his use of the app can be challenging at times. This is because you really need to have a vision of what you want to say ahead of time before compiling the audio and images to upload.
"I can't tell how much of the learning curve is intentional and how much is just something they haven't gotten to yet, but I definitely like the tools," Golant says.
He likens this focus to what Instagram was like in its early days, like "post fun little edited content, but it doesn't have to be hyper professional," he says. "That sort of intent seems to drive better engagement than 'this is the window to your life so all your stuff better look flawless and happy'."
The Captioned team knows this niche part of the market is hungry for more tools to tell stories, rather than post a filtered photos of their morning latte art.
So much so, New York based Anat Gilboa says she wanted to get on Captioned's beta list, but it was too late.
She eventually came across the app on the discovery site Product Hunt, she tells Inverse and hasn't stopped posting since.
"It's such a unique platform to have all of these difference resources at your fingertips!"
But as any millennial would attest, the downside to a huge database is that it can be frustrating finding the right GIF or meme to use.
It's also what can set Captioned on the trajectory to become the next Vine for creatives to go.
"With Bumpers we found people making things we really liked and were super excited about, but we couldn't figure out why people weren't clicking on it," Ownbey says.
This is mainly to do with the low click rate — only about — only about one percent — audio links have on social feeds. Written articles usually have a fourfour percent click rate from Twitter. On the other hand, the current "pivot to video" trend is due to its high click-through rate — a whopping 10 percent — a reminder that those Facebook videos with text overlay really do drive traffic. This puts audio files at the lowest click-through rate of any media form.
"Audio tends to have a hard time on social feeds without a built-in audience, like the way public radio and podcasts have," Ownbey continues. "Where they rely on the built in audience to spin up new shows." Think This American Life's audience heading over to blockbuster Serial.*
While human nature can tell us the jump from reading a feed to article is logistically easier than listening to audio, it's still a disappointing fact to those trying to break into audio.
The co-founders wanted to solve this problem for small-time, non-influencer creative types with Captioned.
Co-founder Thornton noted that the community is "this really interesting melting pot of creatives, weird twitter slash internet people, tech nerds and high school kids right now."
"It's been super interesting to watch these different groups make captioned work for them. In a world of point and shoot, 15 second videos - it's more than refreshing to see people play around with a new media type," he said.
Owenbey agreed with the sentiment, saying "We hope this new medium will give those creatives the chance to make and share things they really care about."