Chinua Achebe: Three Remarkable Books You Can Read in a Weekend
The "father of modern African literature" would be 87 this year.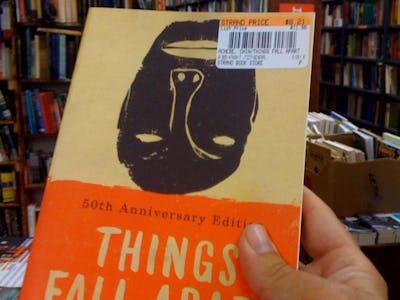 Flickr / Paull Young
Google celebrated the birthday of prolific writer Chinua Achebe on Thursday with a Google Doodle to honor the mind who shared a new perspective on Nigerian culture and life with powerful, memorable stories. He offered a number of memorable quotes in his lifetime that combined dark humor and warmth.
"When suffering knocks at your door and you say there is no seat for him, he tells you not to worry because he has brought his own stool," is perhaps one of Achebe's most repeated profundities.
Achebe, who died in 2013, would have been 87 on Thursday, and the Google Doodle honors the author of Things Fall Apart, Arrow of God, Anthills of the Savannah, and dozens of other short stories, poetry anthologies, essays, and children's books.
For his work, Achebe was honored with the Man Booker International Prize for fiction in 2007, with one judge dubbing the writer the "father of modern African literature."
Achebe's legacy as an iconic author lives on. There are few better ways to honor him than by reading his work, which are manageable in length and can be read in just a few days, so consider reaching for one of his pieces this weekend.
Things Fall Apart
Achebe's most widely read novel follows the life of Okonkwo, a warrior in the Igbo village, as his community falls under British rule, colonialism destroys their traditions, and he is resistance to change. The book is 64,790 words long and can be read in 4 hours and 19 minutes on average, readinglength.com says. This is a must-read and considered to be one of the most important pieces of African literature. It's been translated into 57 languages and 20 million copies have been sold worldwide.
Arrow of God
This book contains many of the same themes found in Things Fall Apart, once again following the Igbo village's relationship with British colonialism. The main character this time is a priest named Ezeulu, and the book documents his struggle to maintain his people's customs while they're taken over by Christianity and Western values. This novel is 71,300 words and takes, on average, 4 hours and 45 minutes to read, according to readinglength.com.
Anthills of the Savannah
Achebe wrote this book in 1987 after a 21-year hiatus since his previous book was published. The plot takes place in a fictionalized African country that's gained independence from Britain and now struggles to thrive amid political corruption and social injustice. However, the book's later release did not have a poor effect on his career; it instead was seen to revive his legacy. This book is 66,960 words long, and readinglength.com says it takes 4 hours and 27 minutes to read.
Google's creation honors a writer who was outspoken in criticizing those he felt were damaging to Nigeria and to society. Many, including the Library of Congress, celebrate his legacy today by continuing to read and discuss the impact of his writing.