New Trailer for 'The Stanford Prison Experiment' Is for Entertainment Purposes Only
Would you rather be a guard or a prisoner?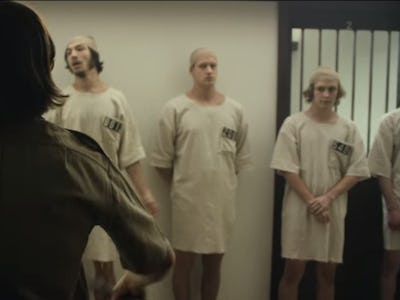 www.YouTube.com
The trailer for the new movie based on the infamous Stanford Prison Experiment asks you a simple question: Would you rather be a guard or a prisoner? Either way, you're probably going to get hit with a fiction that looks hella real, and we're OK with that.
The film debuted to buzz and plaudits at Sundance earlier this year, dramatizing the titular experiment you read about in Psych 101. Directed by Kyle Patrick Alvarezit stars Billy Crudup as Philip Zimbardo, the psychologist who conducted the experiment.
Judging by the trailer, the details of the experiment seem to be represented faithfully, even if they shade intense and overwrought. This is literally a psychological thriller, and looks like a cracking little ride. Should we worry about where the science ends and the drama begins?
Blockbusters thrive on junk science. San Andreas, The Day After Tomorrow, et al are packed with dicey facts that make experts wince. Want to troll an archaeologist? Ask her about the scientific veracity of Raiders of the Lost Ark. The difference here is that the Stanford Prison Experiment actually happened, and from all indications, the movie doesn't end with San Francisco getting dunk-tanked by the entire Pacific Ocean. The trick for Stanford Prison Experiment will be mining an indie thriller out of what was, after all, an academic study.
You want to read Zimbardo's paper? The Internet's got you covered. With those nutrients in your belly, it's legit to indulge in whatever sweeteners/salts come in the big-screen rendering. Find out whether the filmmakers can hold you captive on July 17, when the movie is released.