ESPN Debuts SportsCenter for Millennials, on Snapchat, of Course
It's the first-ever daily sports show on Snapchat.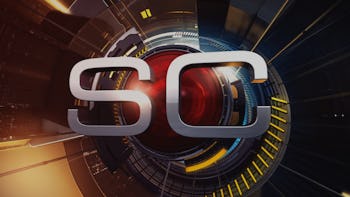 EESPN
After a much-hyped announcement and stalled premiere, ESPN's new SportsCenter show finally premiered on Snapchat tonight.
The inaugural episode was hosted by anchor Katie Nolan, who joined ESPN from Fox Sports last month. Standing in front of the iconic studio set, Nolan gave a vlog-style rundown of the top sports stories of the day, including New England New England Patriots touchdown trivia and GQ's Men of the Year highlights.
The episode appeared about 30 minutes after the intended 5 p.m. Eastern premiere. ESPN did not immediately respond to Inverse's requests for clarification on why the premiere was delayed.
The reimagined version of SportsCenter is meant to introduce millennials to ESPN's top show at a time when cord-cutting has significantly reduced the network's profit margins and forced multiple rounds of layoffs.
The Snap program replaces ESPN's Discover content on Snapchat, and it's being called "the first ever daily sports show on the platform." Other outlets like CNN have taken a stab at hosting shows on Snapchat, but SportCenter is the first well-known TV program to make the switch.
SportsCenter on Snapchat, around three to five minutes in length, will air twice per day on weekdays, at 5 a.m. and 5 p.m., and once at 5 a.m. on weekends. SportsCenter on Snapchat will be three to five minutes in length and will include a mix of the latest sports news, highlights and commentary.
It seems a bunch of ESPN's on air talents will take turns hosting the Snapchat version SportsCenter, "each with his or her own unique point of view, providing diverse perspectives and personality to every show," the network announced. Hosts will include Elle Duncan, Cassidy Hubbarth, Jason Fitz and Cy Amundson, along with Nolan.
Nolan in particular makes a lot of sense as the face of ESPN's new venture onto Snap. She initially made her name in as a sports commentator as the host of No Filter with Katie Nolan, an internet-only series on FoxSports.com. Even after she moved to Fox Sports 1 with the launch of Garbage Time, the show's popularity still largely rested on her viral videos, in which she offered reliably incisive takes on the best and worst in both sports and sports media.
The shift to digital [video](/topic/video] marks the latest strategy for the Disney-owned ESPN to salvage its iconic SportsCenter franchise following rating drops due to millennials' cord-cutting habits. However, Snap Inc. seems hopeful the two-year deal will introduce its young user base to the long-running sports show.
"The original SportsCenter defined and changed the way people watched sports," said Sean Mills, Head of Original Content for Snap Inc. "Today the enormous changes resulting from technology, especially mobile, are having a huge impact on how sports fans follow their favorite players and teams, not to mention fundamentally changing the conversations around sports. There's a huge opportunity to reimagine SportsCenter for this new medium — and we're thrilled about the team and talent ESPN has assembled to do it."