Who Will Win Buffalo Bills vs. Los Angeles Chargers? A.I. Predicts
It's Nathan for you (if you are the Buffalo Bills).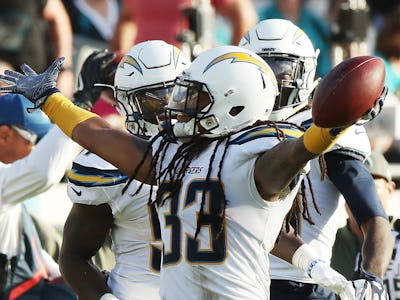 Getty Images / Logan Bowles
The Tyrod Taylor has come to an end for the Buffalo Bills after a pair of tough losses, which means rookie Nathan Peterman gets the start this weekend. The Los Angeles Chargers, meanwhile, probably can't scrape their way out of the 0-4 hole they dug themselves at the start of the season, but did we mention they are facing a rookie quarterback making his first start? A hive mind of about 30 NFL fans predicts the Chargers will win Sunday.
While it's hard to argue the basically solid Taylor has been Buffalo's main problem, the last two weeks have been ghastly, with the once promising Bills dropping a game to the sputtering New York Jets and getting walloped 47-10 by the New Orleans Saints. What's odd is the Bills are still sixth in the NFC standings, with no teams below them looking like they are about to seize a playoff bid, so it's strange Buffalo would roll the dice on a rookie quarterback when they still have a chance of ending their long playoff drought. The Chargers probably aren't complaining, though.
Subscribe to the Inverse newsletter. Trust us, we're from the future.
To predict the result of this and other games, Unanimous A.I. used what's known as swarm intelligence to forecast the week's slate. About 40 NFL fans worked together as a hive mind to make picks. As you can see in the animation below, each participant controlled a little golden magnet and used it to drag the puck toward the answer they thought was the most likely outcome. As the users saw the puck move toward a particular outcome, it triggers a psychological response. They readjust their decision-making, building toward a consensus. Here's Unanimous A.I. founder Louis Rosenberg explaining swarm intelligence at a recent TEDx Talk.
Unanimous A.I. has made some scarily accurate predictions in the past using swarm intelligence, as our previous article explains. For instance, the swarm went a perfect 7-0 in its most recommended picks for a recent English Premier League slate.
The swarm is almost evenly split at the outset here before finally veering toward predicting the Chargers with low confidence. The brainpower is low but not ridiculously so at 77 percent.
The hive mind likes the Charges to win by four to six points, with 85 percent brainpower behind the choice. That's squarely in line with Vegas, which favors Los Angeles by five points.
The game kicks off 4:05 p.m. Eastern Sunday on CBS.