Who Will Win Kansas City Chiefs vs. New York Giants? A.I. Predicts
It's a milestone week for Eli Manning, but that's about it for the Giants.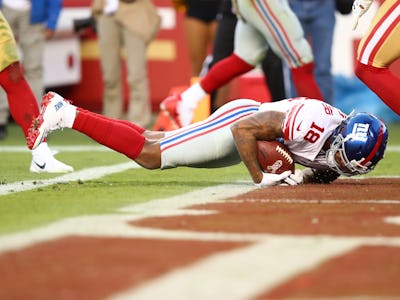 Getty Images / Ezra Shaw
Eli Manning makes his 209th consecutive start this week, moving ahead of older brother Peyton Manning on the all-time list. And… that's about it for the New York Giants, whereas the Kansas City Chiefs look to recapture their early-season hot streak. A hive mind of about 30 NFL fans predicts the Chiefs will win Sunday.
What's particularly brutal about this is that the Giants have arguably reached a point in their miserable 1-8 campaign where it makes sense to bench Manning — who hasn't been terrible or anything, but is also 36 and probably not the Giants' long-term answer — and see what rookie Davis Webb can do. It's like when Los Angeles Rams coach Jeff Fisher got fired last year a game before he could set the all-time loss record, except marginally less sad. At least Manning's mark isn't an ignominious achievement, and he will get to pass his brother unless there's a surprise benching Sunday.
Subscribe to the Inverse newsletter. Trust us, we're from the future.
To predict the result of this and other games, Unanimous A.I. used what's known as swarm intelligence to forecast the week's slate. About 30 NFL fans worked together as a hive mind to make picks. As you can see in the animation below, each participant controlled a little golden magnet and used it to drag the puck toward the answer they thought was the most likely outcome. As the users saw the puck move toward a particular outcome, it triggers a psychological response. They readjust their decision-making, building toward a consensus. Here's Unanimous A.I. founder Louis Rosenberg explaining swarm intelligence at a recent TEDx Talk.
Unanimous A.I. has made some scarily accurate predictions in the past using swarm intelligence, as our previous article explains. For instance, the swarm went a perfect 7-0 in its most recommended picks for a recent English Premier League slate.
The swarm likes the Chiefs to win, predicting a victory with high confidence and 81 percent brainpower.
The swarm likes the Chiefs to win big here, predicting a victory by at least 13 points with 80 percent brainpower. By comparison, the Vegas line only favors Kansas City by 10.5 points.
The game kicks off 1 p.m. Eastern Sunday on CBS.