Who Will Win Los Angeles Rams vs. Minnesota Vikings? A.I. Predicts
A battle of two unexpected division leaders.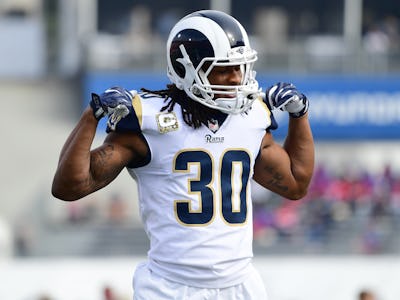 Getty Images / Harry How
It's fair to say nobody would have predicted before the season that the Los Angeles Rams and Minnesota Vikings would both find themselves 7-2 and atop their respective divisions. Yet that's the situation as the two teams meet Sunday. A hive mind of about 30 NFL fans predicts the Vikings will win.
The game is a showdown of last year's Rams quarterback depth chart. Jared Goff looks like he really might have been worth the number one overall pick after strong play this season, while journeyman Case Keenum has found the most success of his career since leaving the Rams for the Vikings and filling in for injured starters Sam Bradford and, going further back, Teddy Bridgewater. Again, pretty much nobody was predicting these two would be among the top quarterbacks in the NFL for two of the NFC's most intriguing playoff contenders, but here we are. Life's funny sometimes.
Subscribe to the Inverse newsletter. Trust us, we're from the future.
To predict the result of this and other games, Unanimous A.I. used what's known as swarm intelligence to forecast the week's slate. About 30 NFL fans worked together as a hive mind to make picks. As you can see in the animation below, each participant controlled a little golden magnet and used it to drag the puck toward the answer they thought was the most likely outcome. As the users saw the puck move toward a particular outcome, it triggers a psychological response. They readjust their decision-making, building toward a consensus. Here's Unanimous A.I. founder Louis Rosenberg explaining swarm intelligence at a recent TEDx Talk.
Unanimous A.I. has made some scarily accurate predictions in the past using swarm intelligence, as our previous article explains. For instance, the swarm went a perfect 7-0 in its most recommended picks for a recent English Premier League slate.
The hive mind isn't at all sure about this one, ultimately picking Minnesota with low confidence and just 73 percent brainpower. You can see just how many were pulling for the visiting Rams, though.
The hive mind sees this one as being within a touchdown, picking the Vikings to win by four to six points with 86 percent brainpower behind the prediction. The Vikings are favored by about 2.5 points in Vegas.
The game kicks off 1 p.m. Eastern Sunday on Fox.