Who Will Win Tampa Bay Buccaneers vs. Miami Dolphins? A.I. Predicts
This game could have held such promise in week one.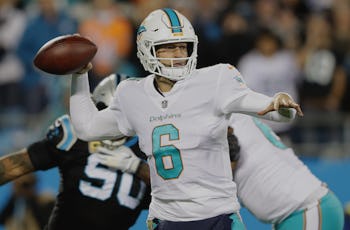 Getty Images / Streeter Lecka
The Tampa Bay Buccaneers and Miami Dolphins face off Sunday to make up a week one game that was canceled by Hurricane Irma. The intervening weeks haven't exactly been kind to either team. A hive mind of about 30 NFL fans predicts the TTK will win.
While the Miami Dolphins continue to remain vaguely in the hunt for a playoff spot in the dregs-filled AFC, the Buccaneers have been reeling for weeks. They are down to backup quarterback Ryan Fitzpatrick while Jameis Winston deals with injuries and, far more seriously, new allegations of sexual misconduct. In that context, the fact both teams have struggled this season only feels so important — short version, things haven't been great for a while now for the NFL's non-Jacksonville teams in Florida.
Subscribe to the Inverse newsletter. Trust us, we're from the future.
To predict the result of this and other games, Unanimous A.I. used what's known as swarm intelligence to forecast the week's slate. About 40 NFL fans worked together as a hive mind to make picks. As you can see in the animation below, each participant controlled a little golden magnet and used it to drag the puck toward the answer they thought was the most likely outcome. As the users saw the puck move toward a particular outcome, it triggers a psychological response. They readjust their decision-making, building toward a consensus. Here's Unanimous A.I. founder Louis Rosenberg explaining swarm intelligence at a recent TEDx Talk.
Unanimous A.I. has made some scarily accurate predictions in the past using swarm intelligence, as our previous article explains. For instance, the swarm went a perfect 7-0 in its most recommended picks for a recent English Premier League slate.
The swarm likes Miami here, albeit with low confidence. At least the hive mind is pretty agreed upon that particular choice, with a high 89 percent brainpower behind the prediction.
The hive mind predicts the Dolphins will win by four to six points, with 84 percent brainpower behind the pick. The Vegas line has Miami by a single point.
The game kicks off 1 p.m. Eastern Sunday on Fox.