Who Will Win Baltimore Ravens vs. Green Bay Packers? A.I. Predicts
Can Brett Hundley save Green Bay's season?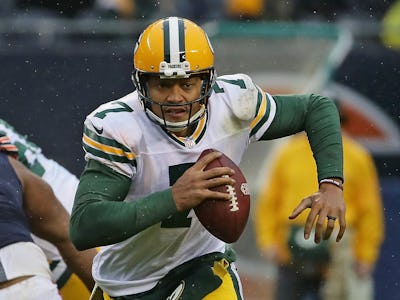 Getty Images / Jonathan Daniel
The Green Bay Packers look to keep their playoff hopes alive in the absence of star quarterback Aaron Rodgers. The Baltimore Ravens have to wonder if their own Super Bowl-winning quarterback is actually any good anymore. A hive mind of about 30 NFL fans predicts the Packers will win Sunday.
Brett Hundley is looking better each week as Green Bay's replacement signal caller. The Packers snapped a three-game losing streak with last week's victory over the Chicago Bears, and improving to 6-4 could give them at least some chance to keep their playoff hopes alive. The Baltimore Ravens have feasted on backups before — look at their 40-0 shellacking of a Matt Moore-quarterbacked Miami Dolphins team — but Joe Flacco has looked so unimpressive in both arm strength and accuracy this season that it's an open question whether Baltimore's offense will even show up.
Subscribe to the Inverse newsletter. Trust us, we're from the future.
To predict the result of this and other games, Unanimous A.I. used what's known as swarm intelligence to forecast the week's slate. About 30 NFL fans worked together as a hive mind to make picks. As you can see in the animation below, each participant controlled a little golden magnet and used it to drag the puck toward the answer they thought was the most likely outcome. As the users saw the puck move toward a particular outcome, it triggers a psychological response. They readjust their decision-making, building toward a consensus. Here's Unanimous A.I. founder Louis Rosenberg explaining swarm intelligence at a recent TEDx Talk.
Unanimous A.I. has made some scarily accurate predictions in the past using swarm intelligence, as our previous article explains. For instance, the swarm went a perfect 7-0 in its most recommended picks for a recent English Premier League slate.
The swarm predicts the Packers will win, but it is close: It's a low confidence pick with just 73 percent brainpower behind it, and most of the dissent is pulling for the Ravens instead. This is close to a toss-up.
The swarm sees a razor-thin margin of victory here, predicting the Packers will win by one to three points. The Ravens are currently favored by Las Vegas by two points.
The game kicks off 1 p.m. Eastern Sunday on CBS.