Who Will Win Tennessee Titans vs. Pittsburgh Steelers? A.I. Predicts
It's a battle of division leaders!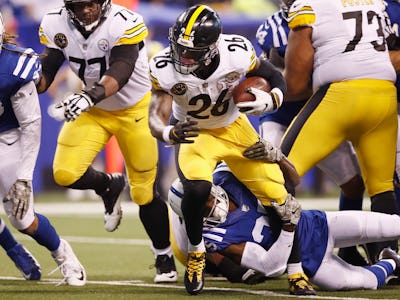 Getty Images / Andy Lyons
The Pittsburgh Steelers and Tennessee Titans both enter their Thursday showdown as division-leading, defensively oriented teams. But given the Steelers have generally looked like one of the best teams in the AFC while Tennessee has benefited from playing in the deeply weird AFC South, what chance do the visiting Titans really have? A hive mind of about 30 NFL fans predict the Steelers will win Thursday.
Still, maybe the AFC South is Pittsburgh's kryptonite. After all, the Pittsburgh Steelers messed around a lot before finally putting away the two-win Indianapolis Colts last week, and their worst game of the season was a 30-9 defeat to the Jacksonville Jaguars, who share the division lead with the Titans. For 80-year-old Tennessee defensive coordinator Dick LeBeau, this is also a revenge game, as he looks to guide the Titans' stout defense to victory against his former longtime team.
Subscribe to the Inverse newsletter. Trust us, we're from the future.
Photo
To predict the result of this and other games, Unanimous A.I. used what's known as swarm intelligence to forecast the week's slate. About 30 NFL fans worked together as a hive mind to make picks. As you can see in the animation below, each participant controlled a little golden magnet and used it to drag the puck toward the answer they thought was the most likely outcome. As the users saw the puck move toward a particular outcome, it triggers a psychological response. They readjust their decision-making, building toward a consensus. Here's Unanimous A.I. founder Louis Rosenberg explaining swarm intelligence at a recent TEDx Talk.
Unanimous A.I. has made some scarily accurate predictions in the past using swarm intelligence, as our previous article explains. For instance, the swarm went a perfect 7-0 in its most recommended picks for a recent English Premier League slate.
The swarm likes Pittsburgh to win, albeit only with low confidence and 79 percent brainpower behind the pick.
The hive mind predicts the Steelers will win by seven to nine points, with 85 percent brainpower behind that pick. That's a tricky spot, given the Vegas line currently favors Pittsburgh by seven points.
The game kicks off 8:25 p.m. Eastern Sunday on NBC, NFL Network, and Amazon Prime Video.