Remembering Jack King, the 'Voice Of NASA'
Jack King's steady voice was the anchor for billions watching history.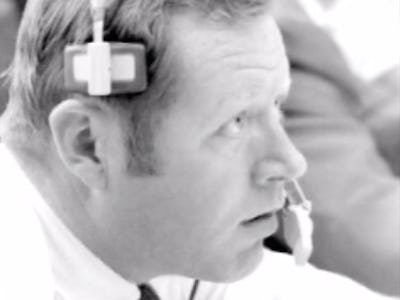 Wikipedia Commons
There was nothing in Jack King's voice that would make you think anything special, let alone historic, was about to happen. But for the 600 million people watching the Apollo 11 launch, his unhurried tenor offered calm assurance that, yes, humans were going to the moon.
We'll never experience anything together that way again. There will be flashpoints, sure, rare moments that touch everyone in different ways. But there was only a brief period of history during which it was feasible for everyone to experience an event through the same media, hearing the same words in the same voice at the same time. It barely happened when we only had three channels, and never again on the level of Apollo 11. But when the time came, King was the man we trusted with the microphone.
King, who died Thursday at the age of 84 of congestive heart failure, had a 12-year tenure managing press operations for NASA, making him the recognized Voice of Mission Control for billions of Americans who followed the space program. It was King's voice counting down almost every human mission to space through Apollo 15 in 1971.
He left NASA and held a variety of high level public affairs jobs before returning to the field he made his name in when he joined the United Space Alliance in 1996. There he processed shuttles for launch until retiring in 2010. He stayed on as a public affairs volunteer for major launches
Hugh Harris, who replaced King at NASA, told the Associated Press he caught just a hint of emotion in the Apollo launch.
"Right before when he says 'all engines running,' there was sort of a catch there," Harris told them, "and you had a feeling he was thinking 'this is really going to go!'"