Mark Hamill Confirms Luke Skywalker Isn't Evil in 'The Last Jedi'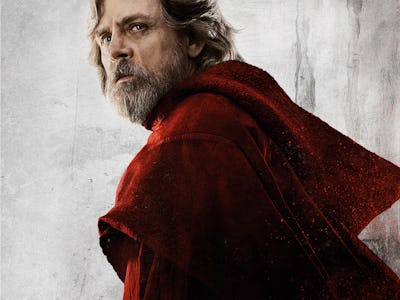 Lucasfilm
Luke Skywalker has been a beacon for hope and pure, unabashed goodness in the Star Wars universe for 40 years, so rumors that he might turn to the Dark side in Star Wars: The Last Jedi came as a shock to many fans. It seems that any of you who are still worried about Luke's impending fate, though, can rest easy.
As reported by Screen Rant on Monday, Hamill spoke with Disney Insider for its winter issue about Luke's headspace in The Last Jedi. Lucasfilm's marketing for The Last Jedi has pointed to a dark path for the Jedi master. And Hamill, renowned as a massive jokester and overall internet troll, hasn't been helping matters either. Until now.
Hamill changed his tune, perhaps reassuring many Star Wars fans of their hero's unshakable loyalty to the light.
"In Star Wars: The Force Awakens, Luke has lost confidence in his ability to make good choices," Hamill said. "It haunts him to the core. But he hasn't gone to the Dark side. This isn't an evil version of him."
Luke's been through a lot since Star Wars fans last saw him in Star Wars: Return of the Jedi. He founded a new and improved Jedi academy and set out to train the next generation of Jedi to act as the guardians of peace in the galaxy and failed miserably. As far as we know, Luke's failure was all thanks to his nephew, Ben Solo (aka Kylo Ren), who turned to the Dark side and destroyed everything Luke had worked so hard to build.
Just as he says in the trailers, Luke previously encountered Rey's fantastic, innate familiarity with the Force only once before, most likely in Kylo. It didn't scare him then, but "it does now." Some fans thought that Luke's fear would be the thing that drove him down the path to the Dark side.
Hopefully Hamill's reassurance will set your minds at ease.
Star Wars: The Last Jedi premieres in theaters on December 15.
If you liked this article, check out this video of an insane theory that connects Snoke to Anakin Skywalker.