Who Will Win New York Giants vs. San Francisco 49ers? A.I. Predicts
Somehow the 49ers are the more together team here.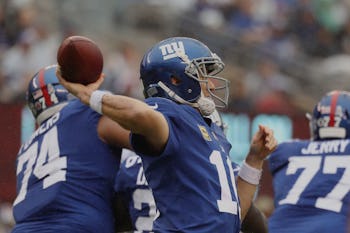 Getty Images / Rob Carr
The San Francisco 49ers are 0-9. They are dealing with a ton of injuries. They just traded for a quarterback with no immediate plans to play him. And the reeling New York Giants would love to be in San Francisco's excellent position. A hive mind of about 40 NFL fans predicts the 49ers will win their first game Sunday.
Reports this week have come out that Giants coach Ben McAdoo has all but lost the team, and it's now an open question whether longtime quarterback Eli Manning has any real future left with a team that appears desperately in need of a hard reboot. By those standards, the 49ers' problems feel like no great shakes, making this the team's best shot to get their first win on the board.
Subscribe to the Inverse newsletter. Trust us, we're from the future.
To predict the result of this and other games, Unanimous A.I. used what's known as swarm intelligence to forecast the week's slate. About 40 NFL fans worked together as a hive mind to make picks. As you can see in the animation below, each participant controlled a little golden magnet and used it to drag the puck toward the answer they thought was the most likely outcome. As the users saw the puck move toward a particular outcome, it triggers a psychological response. They readjust their decision-making, building toward a consensus. Here's Unanimous A.I. founder Louis Rosenberg explaining swarm intelligence at a recent TEDx Talk.
Unanimous A.I. has made some scarily accurate predictions in the past using swarm intelligence, as our previous article explains. For instance, the swarm went a perfect 7-0 in its most recommended picks for a recent English Premier League slate.
The swarm predicts San Francisco to win, albeit with low confidence and 80 percent brainpower behind the choice.
The hive mind predicts the 49ers will win by four to six points. The Vegas line currently favors New York, not San Francisco, by 2.5 points, making this an intriguing option.
The game kicks off 4:25 p.m. Eastern Sunday on Fox.