Who Will Win Houston Texans vs. Los Angeles Rams? A.I. Predicts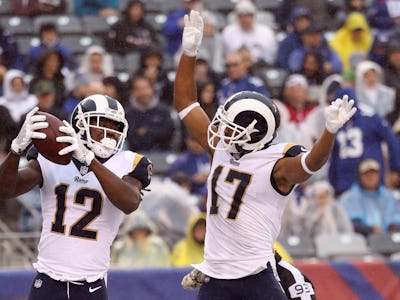 Getty Images / Rob Carr
In another timeline, second-year breakout quarterback Jared Goff could have led the Los Angeles Rams into a shootout with rookie sensation Deshaun Watson and the Houston Texans. Only one of those things is going to happen, unfortunately, so it's not exactly surprising a hive mind of about 40 NFL fans predicts the Rams will win big.
The Rams and Texans have both been riotously fun since unleashing their young quarterbacks. Goff has gone from bust in the making to a player capable of living up to his first overall pick status, while Watson was on track for quite possibly the best rookie season any quarterback has ever had. But an ACL tear to the Texans star means Houston must again turn to Tom Savage, which… sigh.
Subscribe to the Inverse newsletter. Trust us, we're from the future.
To predict the result of this and other games, Unanimous A.I. used what's known as swarm intelligence to forecast the week's slate. More than 30 NFL fans worked together as a hive mind to make picks. As you can see in the animation below, each participant controlled a little golden magnet and used it to drag the puck toward the answer they thought was the most likely outcome. As the users saw the puck move toward a particular outcome, it triggers a psychological response. They readjust their decision-making, building toward a consensus. Here's Unanimous A.I. founder Louis Rosenberg explaining swarm intelligence at a recent TEDx Talk.
Unanimous A.I. has made some scarily accurate predictions in the past using swarm intelligence, as our previous article explains. For instance, the swarm went a perfect 7-0 in its most recommended picks for a recent English Premier League slate.
The hive mind doesn't hesitate too much in picking the Rams to win, though some odd wavering there at the end brings the collective brainpower down to a relatively modest 83 percent.
The hive mind likes the Rams to win here by 10 to 12 points. That's right on the borderline of what Vegas thinks, as the Rams are favored by 11.
The game kicks off 4:05 p.m. Eastern Sunday on CBS.