Who Will Win Cincinnati Bengals vs. Tennessee Titans? A.I. Predicts
Prepare for some defense.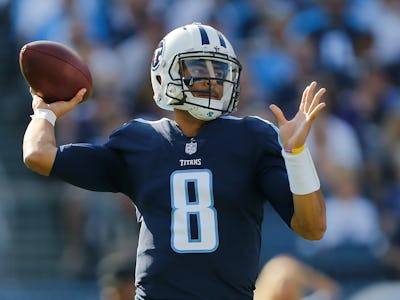 Getty Images / Michael Reaves
The Cincinnati Bengals play their third AFC South team in as many games when they head to Nashville to face the Tennessee Titans. Will the offensively challenged Bengals get anything going against a stout Titans defense? A hive mind of about 40 NFL fans predicts the Titans will win Sunday.
The Tennessee Titans have navigated some unlucky bounces to reach a decent 5-3, even if a blowout loss to the Houston Texans means they have been outscored on the season overall. They can keep pace for the AFC South lead with a win over the Bengals, who have improved some from their disastrous early-season woes but still sport one of the NFL's worst offenses — though considering Tennessee isn't much of an offensive juggernaut itself, best not to expect a ton of points here.
Subscribe to the Inverse newsletter. Trust us, we're from the future.
To predict the result of this and other games, Unanimous A.I. used what's known as swarm intelligence to forecast the week's slate. More than 30 NFL fans worked together as a hive mind to make picks. As you can see in the animation below, each participant controlled a little golden magnet and used it to drag the puck toward the answer they thought was the most likely outcome. As the users saw the puck move toward a particular outcome, it triggers a psychological response. They readjust their decision-making, building toward a consensus. Here's Unanimous A.I. founder Louis Rosenberg explaining swarm intelligence at a recent TEDx Talk.
Unanimous A.I. has made some scarily accurate predictions in the past using swarm intelligence, as our previous article explains. For instance, the swarm went a perfect 7-0 in its most recommended picks for a recent English Premier League slate.
The hive mind briefly veered toward the high confidence pick for the Titans before opting for the low confidence prediction instead. The pick has only 78 percent brainpower behind it, but most of that is split with the high confidence pick.
The hive mind likes the Titans to win by seven to nine points, with 77 percent brainpower behind the pick. The Vegas line currently favors Tennessee by 4.5 points.
The game kicks off 1 p.m. Eastern Sunday on Fox.