Who Will Win Minnesota Vikings vs. Washington? A.I. Predicts
Can Washington spring another upset?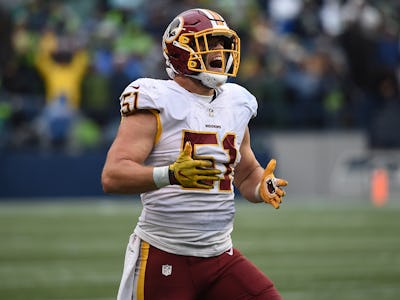 Getty Images / Steve Dykes
The Minnesota Vikings are maybe the NFL's quietest division leader as they sit atop the NFC North. Washington has pulled off some shocking victories to go along with their dispiriting losses. A hive mind of about 40 NFL fans predicts the Vikings will win Sunday.
The Vikings are 6-2 despite massive quarterback turmoil, with this week revealing Teddy Bridgewater could come back this season after more than a year away, but opening week starter Sam Bradford is definitely done. In a weird quirk of the schedule, Washington has gone 4-0 against opponents in the two western divisions, including big wins over the Seattle Seahawks and Los Angeles Rams, but 0-4 against everyone else. Are they ready to go for a more easterly upset when they try to take down the Vikings?
Subscribe to the Inverse newsletter. Trust us, we're from the future.
To predict the result of this and other games, Unanimous A.I. used what's known as swarm intelligence to forecast the week's slate. About 40 NFL fans worked together as a hive mind to make picks. As you can see in the animation below, each participant controlled a little golden magnet and used it to drag the puck toward the answer they thought was the most likely outcome. As the users saw the puck move toward a particular outcome, it triggers a psychological response. They readjust their decision-making, building toward a consensus. Here's Unanimous A.I. founder Louis Rosenberg explaining swarm intelligence at a recent TEDx Talk.
Unanimous A.I. has made some scarily accurate predictions in the past using swarm intelligence, as our previous article explains. For instance, the swarm went a perfect 7-0 in its most recommended picks for a recent English Premier League slate.
The hive mind likes the Vikings here, though it's only a low confidence pick with a relatively weak 77 percent brainpower behind it.
The swarm picks Minnesota to win by four to six points, with 82 percent brainpower. The Vegas spread currently favors the Vikings by just 1.5 points.
The game kicks off 1 p.m. Eastern Sunday on Fox.