Who Will Win Pittsburgh Steelers vs. Indianapolis Colts? A.I. Predicts
Can Indy pull off a staggeringly stupid upset?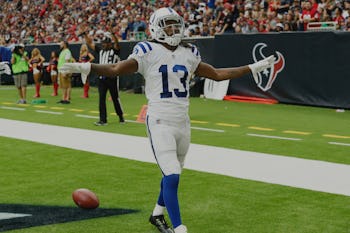 Getty Images / Bob Levey
The Pittsburgh Steelers are once again one of the AFC's most reliably strong teams as they hit the halfway mark at 6-2. The Indianapolis Colts have conceded a lost season after officially shutting down injured quarterback Andrew Luck for the year. Sunday's game feels like a foregone conclusion — and a hive mind of about 40 NFL fans agrees, picking the Steelers to win big.
And yet, and yet… this is the same Pittsburgh Steelers team that coughed up an overtime loss to a Chicago Bears team that hadn't even yet accessed its full Mitch Trubisky powers. This is the same Steelers team that got pummeled 30-9 by an admittedly not bad Jacksonville Jaguars squad. Yes, those are Pittsburgh's only two losses, but at least this is a team that has shown it can lose to anybody.
Subscribe to the Inverse newsletter. Trust us, we're from the future.
To predict the result of this and other games, Unanimous A.I. used what's known as swarm intelligence to forecast the week's slate. About 40 NFL fans worked together as a hive mind to make picks. As you can see in the animation below, each participant controlled a little golden magnet and used it to drag the puck toward the answer they thought was the most likely outcome. As the users saw the puck move toward a particular outcome, it triggers a psychological response. They readjust their decision-making, building toward a consensus. Here's Unanimous A.I. founder Louis Rosenberg explaining swarm intelligence at a recent TEDx Talk.
Unanimous A.I. has made some scarily accurate predictions in the past using swarm intelligence, as our previous article explains. For instance, the swarm went a perfect 7-0 in its most recommended picks for a recent English Premier League slate.
The swarm has little doubt that Pittsburgh will win, picking them with high confidence and a whopping 94 percent brainpower behind the pick.
The hive mind likes the Steelers to win by 10 to 12 points, with 83 percent brainpower behind that choice. The Vegas line, however, is 10 points, which means that's a tough margin to place a confident bet on.
The game kicks off 1 p.m. Eastern Sunday on CBS.