Who Will Win Seattle Seahawks vs. Arizona Cardinals? A.I. Predicts
Expect just so much running.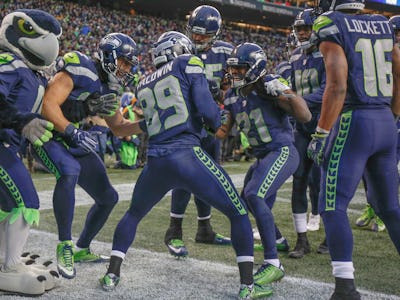 Getty Images / Otto Greule Jr
The Seattle Seahawks look to recover from last week's unexpected stumble against Washington when they head to Phoenix Thursday, while the injury-ravaged Arizona Cardinals look to a rejuvenated Adrian Peterson to keep their long-shot playoff hopes alive. A hive mind of about 30 NFL fans predicts the Seahawks will win.
Peterson has averaged more than 100 yards per game since his midseason trade from the New Orleans Saints to the Cardinals. It's by far the best he has looked since his heyday with the Minnesota Vikings, and his production has given the Cardinals offense a chance after injuries to star running back David Johnson and veteran quarterback Carson Palmer. The Seahawks, for their part, look to get their rushing offense back on track as they hope to keep pace with the division-leading Los Angeles Rams.
Subscribe to the Inverse newsletter. Trust us, we're from the future.
To predict the result of this and other games, Unanimous A.I. used what's known as swarm intelligence to forecast the week's slate. More than 30 NFL fans worked together as a hive mind to make picks. As you can see in the animation below, each participant controlled a little golden magnet and used it to drag the puck toward the answer they thought was the most likely outcome. As the users saw the puck move toward a particular outcome, it triggers a psychological response. They readjust their decision-making, building toward a consensus. Here's Unanimous A.I. founder Louis Rosenberg explaining swarm intelligence at a recent TEDx Talk.
Unanimous A.I. has made some scarily accurate predictions in the past using swarm intelligence, as our previous article explains. For instance, the swarm went a perfect 7-0 in its most recommended picks for a recent English Premier League slate.
The swarm is pretty certain Seattle will win here, albeit with low confidence. There's 87 percent brainpower behind that pick, with most of the dissent going toward Seattle with high confidence.
As for the margin of victory, the hive mind predicts the Seahawks will win by seven to nine points, with 80 percent brainpower behind the pick. Given the line is Seattle by six points, that's probably best approached cautiously.
The game kicks off 8:25 p.m. Eastern Thursday on NBC, the NFL Network, and Amazon Prime Video.