'Pacific Rim' Producer Reveals Bad News About Rumored Godzilla Crossover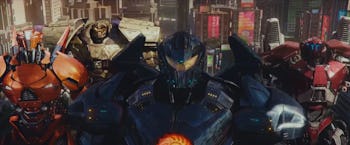 Legendary / Universal
It looks like we won't see Pacific Rim's Jaegers alongside Godzilla and King Kong, after all. Though Pacific Rim Uprising director Steven S. DeKnight excited fans when he suggested that the franchise could crossover with the MonsterVerse, the film's producer says that's not going to happen.
On Thursday, CinemaBlend posted an excerpt from their interview with Cale Boyter, where the Uprising producer said that "There's no plans to merge."
However, it's not all bad news. "Understandably that might be cool," Boyter said, "but I might have something up my sleeve that will surprise you - that I think you guys will love, that I think is better than the obvious approach."
The original basis for the speculation that Godzilla and King Kong could crossover with the Pacific Rim universe was that they shared a production company in Legendary. However, this was always a little unlikely, as it would involve coordination between the film series' current production companies.
Even though Warner Bros. ended their partnership with Legendary in 2013, they have a deal with Legendary to help with development on the MonsterVerse films. And instead of Warner Bros. being the producer on Pacific Rim Uprising like they were with the first film, Universal Studios is producing the film.
With a crossover between the MonsterVerse and Pacific Rim seemingly off the table, though, what's left? Looking at film series shared by Legendary and Universal for anything that would be a smart addition to the Pacific Rim universe, nothing stands out, however bizarre and fun it would be to see Kaiju in the place of dinosaurs in a crossover with Jurassic World, if indeed Boyter's hinting at a crossover instead of some other cool future for the series.
We'll have to wait until next year to see if there are any clues in Uprising.
Pacific Rim Uprising comes out in the US on March 23, 2018. The next entry in the MonsterVerse, Godzilla: King of the Monsters is set for release in the US on March 22, 2019.