Watch the 'Thor: Ragnarok' Cast Act Out the Film for Unknowing Moviegoers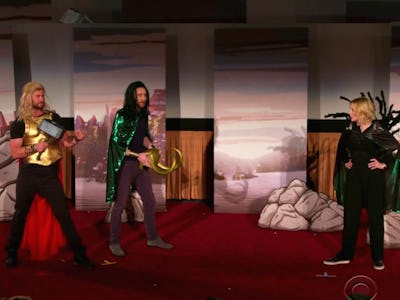 CBS
Instead of watching the awesome Thor: Ragnarok, wouldn't you want to see the film's cast act out the events of the movie live?
That's essentially the basis for Thor 4D, a bit on Thursday night's episode of The Late Late Show With James Corden. The segment, which featured Chris Hemsworth, Tessa Thompson, Cate Blanchett, Mark Ruffalo, and Jeff Goldblum reprising their roles from the film, invited a bunch of unaware fans to what they thought was an advance screening of Ragnarok. But, after the opening moments of the film, they instead have their viewing experience disrupted by on-screen James Corden, who tells them "What you don't know, is that tonight, you have purchased a ticket to the future."
Corden then comes out in person as the stage is set for Thor and his team to take on Hela, the wolf Fenris, and her undead army. It runs through the film's big plot point, with some differences and some obvious outcomes. Nevertheless, go into the video with a very, very mild spoiler warning in mind.
Some of the video's fun comes from the ways they replicated the film's special effects, like when Thor and Loki spin around while going "ahhhhh!" when they're banished to Sakaar by Hela, or when she throws a stuffed toy dog at our heroes. But the charm of the cast is why the bit really succeeds.
"Will they be mad that I'm interrupting the film? Possibly," the host says in a cutaway interview. "You know, wherever there is change people will call it disruption. So I guess, you know, what I'm saying is 'who gives a fuck?'"
There were probably a few people there who just wanted to watch the movie. But still, being able to watch the film's cast perform it for you live seems like a worthwhile trade-off.
Thor: Ragnarok is in US theaters now.