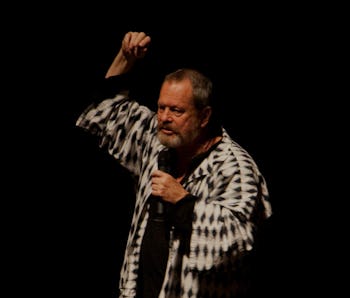 Culture
Amazon Is Ready to Make Terry Gilliam's Impossible Don Quixote Movie
Terry Gilliam wants to put his disastrous blockbuster in theaters by 2016.
YouTube
Terry Gilliam has been tilting at a cinematic adaptation of Cervantes' masterpiece for more than a decade in the face of troubled productions and duplicitous money men. Now Amazon has stepped in and promised to help realize his lunatic vision. The filmmaker and ex-Python says Amazon has offered to partially fund the film and stream it after a limited theatrical run in 2016.
That's assuming the movie makes it to the screen, for, truly, adaptations of Quixote were born to be examples of misfortune, targets at which the arrows of adversity fly true. Orson Wells famously spent decades trying to get a film made, dying before he gave up. Gilliam, a bit of a Welles character in his own right, tried to make the movie with Johnny Depp. Instead of filming anything of value, he ended up starring in a documentary about what happens when everything goes wrong: The weather was bad, the money was bad, the film was bad. (The documentary, on the other hand, was great.)
*Variety says Gilliam has tried this seven times, casting John Hurt and Jack O'Connell for this latest attempt.
Gilliam says he's updated the script with events from his own life and moved the setting to present day. We can only wish him the best. Until death, it is all life.