Who Will Win Game 7 of the World Series? A.I. Predicts How It All Plays Out
An all-time great October Classic must come to an end.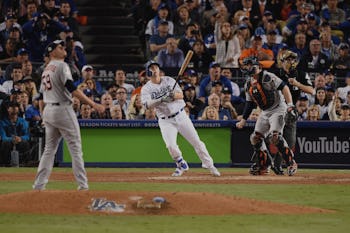 Getty Images / Kevork Djansezian
The Houston Astros and Los Angeles Dodgers have played one of the wildest, most unpredictable, and most homer-filled World Series in recent memory. With the teams knotted at three games apiece, it all comes down to Wednesday's climactic Game 7. And a hive mind of baseball fans predict the Dodgers will emerge victorious with their first championship since 1988.
The Chicago Cubs' comeback last year from a 3-1 series deficit to win their first title in 108 years seemed like it would be hard to top, but the Astros and Dodgers have given baseball fans literally everything. There have been pitchers' duels, absurd comebacks, extra innings, self-destructing bullpens, and just dinger after dinger after dinger. Games 2 and 5 have rival claims for the most wonderfully ludicrous baseball game ever played. This has been one hell of a ride, but who will stand victorious at the end of it?
Subscribe to the Inverse newsletter. Trust us, we're from the future.
To figure that out, Unanimous A.I. used what's known as swarm intelligence to predict what will happen over the course of Game 7, including the outcome. More than XX baseball fans worked together as a hive mind to make predictions. As you can see in the animations below, each participant controlled a little golden magnet and used it to drag the puck toward the answer they thought was the most likely outcome. As the users saw the puck move toward a particular outcome, it triggers a psychological response. They readjust their decision-making, building toward a consensus. Here's Unanimous A.I. founder Louis Rosenberg explaining swarm intelligence at a recent TEDx Talk.
Unanimous A.I. has made some scarily accurate predictions in the past using swarm intelligence, as our previous article explains. For instance, the swarm went a perfect 7-0 in its most recommended picks for a recent English Premier League slate.
Let's consider various components of Game 7, starting with the question of who will get on base more frequently. Already, we see how hard it is for the swarm to decide between these two incredibly evenly matched teams. The Houston Astros have had a slight advantage in on-base percentage over the course of the series, but that hasn't always been a good thing — the Astros left a bunch of baserunners stranded in their 3-1 Game 6 loss. As it is, the hive mind favors the home team here, but with only low confidence and 66 percent collective brainpower behind the pick, meaning there's plenty of dissent. We have our first toss-up.
One-game sample sizes are worth less than nothing, but it makes sense for the hive mind to pick Houston's Lance McCullers over the Dodgers' Yu Darvish here, given this is a rematch of Game 3. In that eventual 5-3 Houston win, McCullers made it to the sixth inning, whereas Darvish was knocked out of the game in the middle of the second. The swarm is still only picking with low confidence, but the collective brainpower behind the prediction is a bit higher here, up to 76 percent. Not quite a toss-up, but close.
Both bullpens have endured collapses for the ages, the necessary flip side of previous games' offensive fireworks. Houston and Los Angeles will likely both be counting on their starters to give them as many innings as they can, but the swarm thinks Astros manager A.J. Hinch needs to be warier of picking up the phone to the bullpen. Again, it's a low confidence pick with middling brainpower behind it, at 77 percent. Once more, it's not exactly a toss-up, but in the vicinity of one.
So, with all that in place, who is going to win in Game 7? Unanimous A.I. gave its hive mind participants two pieces of additional context before asking for the final prediction. First, they shared this fact, courtesy of baseball writer Joe Sheehan.
The Dodgers are in precisely that situation. The hive mind was also reminded this was a Game 3 rematch with the following prompt: "McCullers and Darvish met in game 3. McCullers got the win, pitching into the 6th inning. Darvish got chased without finishing the second inning, after giving up 4 runs."
As you can see, the swarm isn't even remotely sure, momentarily shifting toward the Astros before deciding to pick the Dodgers by the narrowest of margins. The brainpower behind the pick is just 57 percent, meaning this is about as uncertain as it could possibly be.
It's maybe pushing it to say the swarm has predicted a winner in any strong sense. But it has predicted just the kind of up-in-the-air ending this World Series absolutely deserves.
Game 7 starts at 8:20 p.m. Eastern Wednesday on Fox.