Who Will Win Kansas City Chiefs vs. Dallas Cowboys? A.I. Predicts
Expect points. Lots of them.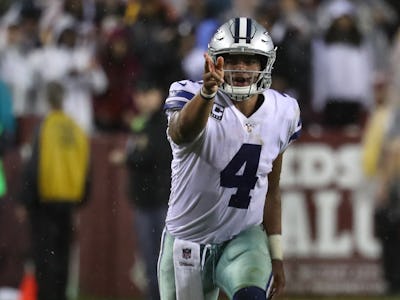 Getty Images / Rob Carr
The Kansas City Chiefs got things back on track by snapping a two-game losing streak. The Dallas Cowboys have scrapped their way through a tough schedule to get to 4-3. Now it's just time for some offensive fireworks when they meet Sunday. A hive mind of about 30 NFL fans predicts the Chiefs will win.
The math on this is simple enough. The Chiefs score 29.5 points per game. The Cowboys score 28.3 points per game. Both teams' defenses top out somewhere around serviceable. That's the recipe for a high-scoring shootout of a game, entirely fitting for two teams square within the geographic footprint of college football's Big 12 Conference, the most pass- and touchdown-happy place in the entire football universe.
Subscribe to the Inverse newsletter. Trust us, we're from the future.
To predict the result of this and other games, Unanimous A.I. used what's known as swarm intelligence to forecast the week's slate. More than 40 NFL fans worked together as a hive mind to make picks. As you can see in the animation below, each participant controlled a little golden magnet and used it to drag the puck toward the answer they thought was the most likely outcome. As the users saw the puck move toward a particular outcome, it triggers a psychological response. They readjust their decision-making, building toward a consensus. Here's Unanimous A.I. founder Louis Rosenberg explaining swarm intelligence at a recent TEDx Talk.
Unanimous A.I. has made some scarily accurate predictions in the past using swarm intelligence, as our previous article explains. For instance, the swarm went a perfect 7-0 in its most recommended picks for a recent English Premier League slate.
The hive mind favors the road team here, picking Kansas City to win. It's a low confidence pick, however, with 83 percent brainpower behind the choice.
The swarm predicts the final margin of victory will be between 4 and 6 points, with 82 percent brainpower behind the pick. The Vegas spread is even for this one, but Unanimous A.I. recommends proceeding with caution given the relative lack of confidence in the Chiefs to win outright.
The game kicks off 4:25 p.m. Eastern Sunday on CBS.