Who Will Win Washington vs. Seattle Seahawks? A.I. Predicts
Yep, Seattle is awesome again.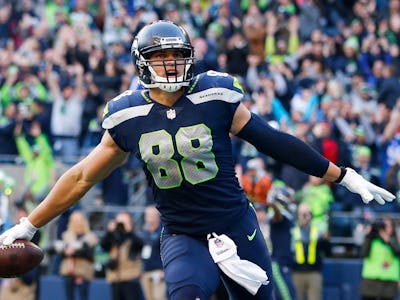 Getty Images / Jonathan Ferrey
The Seattle Seahawks ride a four-game winning streak into a home game against Washington, who have struggled in recent weeks against division foes. Can Washington halt Seattle's latest inevitable move toward NFC West domination? A hive mind of about 30 NFL fans predicts they might keep it relatively close, but Seattle will pick up the win.
The Seahawks make an annoying habit — at least to fans of rival teams — of losing a couple games early and generally looking not all that great before turning it on and reeling off a bunch of wins. This year's 1-2 start has given way to a big winning streak, with last week's thriller over the Houston Texans an exclamation point. Washington, by contrast, is just trying to stay in the mix in the NFC playoff hunt by getting back to .500.
Subscribe to the Inverse newsletter. Trust us, we're from the future.
To predict the result of this and other games, Unanimous A.I. used what's known as swarm intelligence to forecast the week's slate. More than 40 NFL fans worked together as a hive mind to make picks. As you can see in the animation below, each participant controlled a little golden magnet and used it to drag the puck toward the answer they thought was the most likely outcome. As the users saw the puck move toward a particular outcome, it triggers a psychological response. They readjust their decision-making, building toward a consensus. Here's Unanimous A.I. founder Louis Rosenberg explaining swarm intelligence at a recent TEDx Talk.
Unanimous A.I. has made some scarily accurate predictions in the past using swarm intelligence, as our previous article explains. For instance, the swarm went a perfect 7-0 in its most recommended picks for a recent English Premier League slate.
The swarm has no doubt that Seattle has got this, predicting them to win with high confidence and 89 percent brainpower.
The hive mind sees a final margin of seven to nine points, with a very high 90 percent brainpower behind that margin. The Vegas spread is Seattle by seven points, though, so best to approach this one cautiously if considering a bet.
The game kicks off 4:05 p.m. Eastern Sunday on Fox.