Who Will Win Arizona Cardinals vs. San Francisco 49ers? A.I. Predicts
The Cardinals look to deal with their terrible injury luck.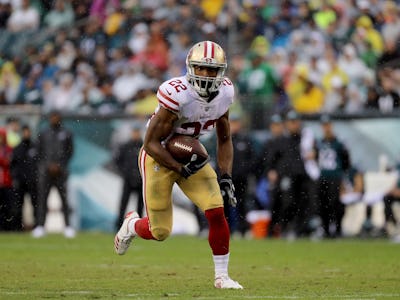 Getty Images / Abbie Parr
The Arizona Cardinals lost star running back David Johnson in the first game of the season. They lost quarterback Carson Palmer in their last game. They've had nothing but bad luck — but at least they get to play the winless San Francisco 49ers Sunday. A hive mind of about 30 NFL fans predicts the Cardinals will win Sunday.
There was a time when you could at least say the 49ers were better than their record. And since it's not technically possible to be worse than an 0-8 record, maybe that's still true, but their last two games have been bad, losing by a combined 53 points. That's about as good a circumstance the Cardinals could hope for to break in new starter Drew Stanton, especially since newly acquired 49ers quarterback Jimmy Garoppolo isn't expected to start for a little bit.
Subscribe to the Inverse newsletter. Trust us, we're from the future.
To predict the result of this and other games, Unanimous A.I. used what's known as swarm intelligence to forecast the week's slate. More than 40 NFL fans worked together as a hive mind to make picks. As you can see in the animation below, each participant controlled a little golden magnet and used it to drag the puck toward the answer they thought was the most likely outcome. As the users saw the puck move toward a particular outcome, it triggers a psychological response. They readjust their decision-making, building toward a consensus. Here's Unanimous A.I. founder Louis Rosenberg explaining swarm intelligence at a recent TEDx Talk.
Unanimous A.I. has made some scarily accurate predictions in the past using swarm intelligence, as our previous article explains. For instance, the swarm went a perfect 7-0 in its most recommended picks for a recent English Premier League slate.
The hive mind likes Arizona to win here, albeit with low confidence and 77 percent brainpower. Then again, most of the dissent is in favor of picking Arizona with high confidence, so nobody is really picking the 49ers here.
The swarm doesn't see a big win for Arizona, picking them to win by four to six points. The brainpower behind this one is fairly high at 86 percent. The line is Arizona by 2.5 points, so there's not much margin for error.
The game kicks off 4:05 p.m. Eastern Sunday on Fox.