Who Will Win Buffalo Bills vs. New York Jets? A.I. Predicts
The Bills look to keep pace with the Patriots.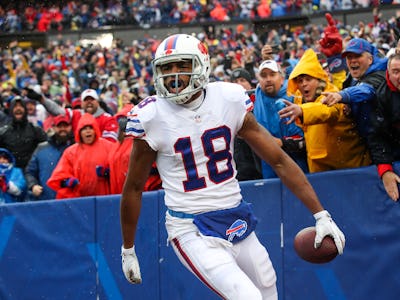 Getty Images / Tom Szczerbowski
The Buffalo Bills near the season's halfway point as perhaps the NFL's most pleasant surprise, with a 5-2 record that puts them in serious contention for a playoff spot. The New York Jets are just looking to end their recent tailspin with a win Thursday night. A hive mind of about 30 NFL fans predict the Bills will win this clash of divisional foes.
The Buffalo Bills have their best chance in years of ending their 18-season playoff drought, the longest in the NFL. A victory would even mean they keep pace in the loss column with the defending champion New England Patriots for the AFC East title. The New York Jets have long since fallen out of contention for that, with their recent three-game losing streak dropping them to 3-5, more in line with their lowly preseason expectations.
Subscribe to the Inverse newsletter. Trust us, we're from the future.
To predict the result of this and other games, Unanimous A.I. used what's known as swarm intelligence to forecast the week's slate. More than 40 NFL fans worked together as a hive mind to make picks. As you can see in the animation below, each participant controlled a little golden magnet and used it to drag the puck toward the answer they thought was the most likely outcome. As the users saw the puck move toward a particular outcome, it triggers a psychological response. They readjust their decision-making, building toward a consensus. Here's Unanimous A.I. founder Louis Rosenberg explaining swarm intelligence at a recent TEDx Talk.
Unanimous A.I. has made some scarily accurate predictions in the past using swarm intelligence, as our previous article explains. For instance, the swarm went a perfect 7-0 in its most recommended picks for a recent English Premier League slate.
The swarm has no doubt the Bills will win this one, picking them to win with high confidence and 83 percent brainpower behind the prediction.
As for how much the Bills will win by, the swarm sees this as a fairly comfortable victory for Buffalo. The prediction is the Bills will prevail by about a touchdown, with 75 percent brainpower behind the choice.
The game kicks off 8:25 p.m. Eastern Thursday on the NFL Network.